Up-Close … with Marie-Andrée Contoret, well-known herbalist-The 'Noni' lady
08-January-2013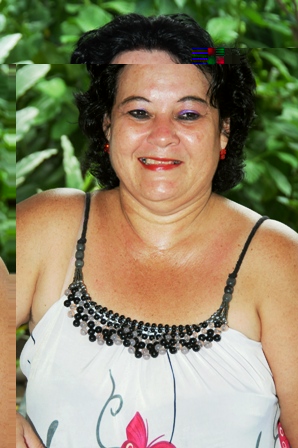 Though Noni juice has been drunk by people across the world for at least 2,000 years and constant reports show that it is safe, until a
few years ago the curative characteristics of the 'Bwa Torti' were known to only a few. One reason could be the rather unpleasant odour
and taste of his yellowish fruit, which is rather a put-off.
Indeed, even today, many people, including Marie-Andrée, sweeten 'Bwa
Torti' with juices of other fruits to improve the taste.

'Bwa Torti' is particularly popular in the Pacific, where it is known
as the 'Noni', a name that is rapidly becoming popular in Seychelles as well. But it is also grown in other tropical areas, including India,
where it is known as the 'Indian Mulberry'.
This 49-year-old seamstress says she has always been interested in
medical plants. As a young girl, she listened with passion whenever the granmoun (elders) discussed some natural remedy.

However, she never imagined at the time that some 30 years later this would constitute a second livelihood, besides dress-making.
Sturdily built, Marie-Andrée, a lot slimmer in her younger days, grew up at Beau Vallon and went to school at the all-girls college Regina
Mundi Convent, where her favourite subjects were languages.
After sitting for her O-Levels, she went to work at the Government
Treasury, in the Accounts Section, where among her workmates was Jacquelin Dugasse, who later became a minister.
"We used to work in the same shift," Marie-Andrée recalls.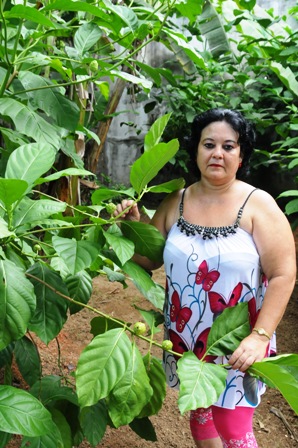 After a while she became interested in making garments and joined the
Seychelles Women's Association, based at Maison du Peuple and headed by Sylvette Pool, to learn the basics of running a business.
Marie-Andrée then worked for Spectra Designs at Hangard Street, which was owned by a businessman called Roy Finesse. She was in charge of a
dozen more junior seamstresses. She recalls that it was a Sunday that she heard that a fire had gutted the premises.
She was then on her own, but by then her reputation as a garment maker
had spread and she always had ample orders to fulfill -- from gents
trousers to ladies skirts and from school uniforms to kiddies' clothes.
In the meantime, Marie-Andrée had married twice and told me a little
about the two failed marriages, on condition that such information remains confidential.
But, from one of the unions, two children were born -- Marvel, who is now 30, married and residing on Praslin; and Joshua, whom I've had the occasion to meet, a 14-year-old student of S3, who looks more like 18 to me.
No doubt, he gets his portly frame from his mum, who has pledged to make more ample use of the beach of Beau Vallon this year for jogging and other physical pursuits.
Five years ago, she met Tony Roberts, an elderly gentleman, who was born of Seychellois parents in Kenya, grew up in UK and eventually settled in Norway.
At the time of the chance encounter, Tony had been using Noni since 15 years for his prostrate problems.
He had found that not only did the medicinal fruit ease his condition, but restored his strength in several other ways. He felt a new man.
The syrup he was using in Norway was costing him about R800 a month. On his yearly vacations in Seychelles, he got other people interested in the curative virtues of 'Bwa Torti', which until then was not well known.
Soon Marie-Andrée, who lives opposite the Beau Vallon petrol station, decided to plant a few 'Bwa Torti' plants in her garden. It was not long before people started calling and asking her for some of the magic juice.
She decided to grow more plants and these now take up her entire property.
Growing the plants, collecting the ripe fruits, manufacturing the syrup, bottling it and attending to customers, often takes too much of her time.

"It has grown into a second business, but some days I cannot do any sowing," says Marie Andrée.
She recalls that some clients from a rural area recently came and expected some gris-gris to be performed on them after purchasing two bottles of juice.
No doubt, they had perceived her as a madanm dibwa (witch doctor).
They were politely told that she considers herself simply a herbalist, and is not involved in magic or supernatural doing.
Today Noni juice is used as a general health tonic, as well as for cancer and other chronic conditions such as cardiovascular diseases and diabetes.
The benefit of Noni is for all ages, but is not a quick fix.
The following benefits are compiled from customer feedback over a few years: More energy; better sleep; an overall improved feeling of well-being; better digestion and elimination functions; increased libido (sex life); increased energy and productivity both at work and at home.
By now, it is apparent why all the excitement about the benefits of Noni juice.
Such a wide range of symptoms are easily helped by this remarkable "Gift from God". It is perhaps no coincidence why persons like Marie-Andrée are such strong believers!
As I was interviewing her, my hands fell upon copies of the Bible and other spiritual literature, which she claims constitute her favourite reading.
By John Lablache