Sustainable energy poster contest-Lucky winners get trip to Abu Dhabi
10-January-2013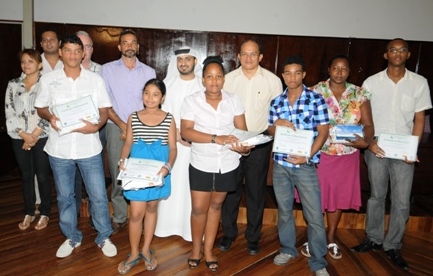 The prizes were presented to the winners in a ceremony held on Tuesday at the ex-National Assembly hall in the National Library building.

In the primary category, Aisha Moustache clinched first prize, trailed by Walida Gobin in second place.
At secondary level, Samuel Marie took home the top prize, while Aldo Rose settled for the runner-up, and in the post secondary category, José Zelime was the only winner.
The event was attended by the Minister for Energy and Environment, Professor Rolph Payet, the chief executive of the Seychelles Energy Commission (Sec) Andrew Jean-Louis, and other staff of the departments.

Also present was Fawwaz Al Muharrami, a representative of the Abu Dhabi-based Masdar Company, which specialises in developing renewable energy.
Mr Muharrami said he was impressed by the students' work, especially how they have envisioned the future of sustainable energy for all.
Last year the secretary general to the United Nations declared 2012 as the year for renewable energy for all, and the competition was held here to engage young people to think about the topic.

The competition kicked off in April, when workshops were held with art teachers from various schools to prepare them for equipping their students with enough material to create their posters.
The judging was done in the August school holidays and the winners selected in November.
While in Abu Dhabi, the five students will attend the World Future Energy summit, which is held annually there. The summit brings together many countries, organisations, companies and more which deal with renewable energy.
State-of-the-art technology will be displayed there, as well as new innovations in the field of renewable energy – most of them unknown to Seychelles – and the students will get to enjoy and learn about all these firsthand.

They will also attend the forums, where challenges in the renewable sector will be discussed, as well as the way forward, solution to existing barriers, breakthroughs and many more.

The students will leave the country on January 14 and return on January 18, upon which they will submit a brief report on their experiences and how what they have learned might benefit Seychelles.