'Marlin Slam' to launch the 2013 sports fishing calendar
10-January-2013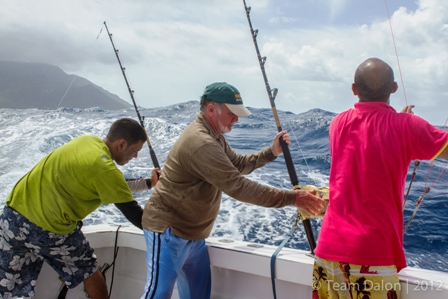 Organised by the Seychelles Sports Fishing Club (SSFC), the competition carries a R250,000 prize money.
As it has been the case in past competitions, the tournament will be held in the name of sportsmanship and friendship as fishing is a sport for honest and sincere anglers.

Strict rules will also be set and all those taking part should abide by them and ensure that the competition protocol is observed, while the true values of sportsmanship should be applied.
All boats taking part should return to the Eden Island Marina by 5pm on competition day, while a final debriefing session for skippers and team members will be held at 4pm on Friday January 18 at the marina.
Entry fee for the Marlin Slam fishing tournament is R10,000 and the deadline for registration is at 6pm on Friday January 18.
Skippered by Charles Marzocchi, team Marlin -- also made up of Joe MacGaw, Alistair Maiden and Alan Brummer -- were last year's winners with a 132.35kg catch.
They accumulated 1,323.50 points to clinch the tournament's star prize of R200,000 and a Bodo Muche sculptured trophy.
The Sea Fever team onboard the Sea Beast boat, led by skipper Christophe Larue, with Walter Larue as team captain, came in with the second biggest catch which was a 118.75kg marlin, earning them 1,187.50 points.
Skipper Edison Rath and team captain Rajesh Chetty led team Scorpion to the third biggest catch of the competition which was a 110.30kg marlin, giving them 1,103.00 points.
R. D.