Partners meet to finalise details of 2013 carnival
11-January-2013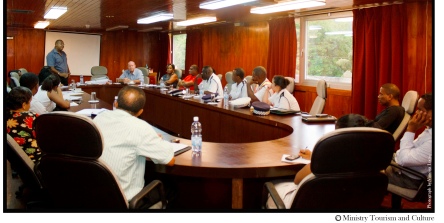 The message coming out of the meeting is that the public will see slight changes for this third carnival.
The meeting, held at the International Conference Centre, discussed the routes, standing and sitting positions for the public.
The artistic and production team, the police, the Seychelles Broadcasting Corporation, protocol officers from the Ministry of Foreign Affairs and the President's Office and the carnival team from the Seychelles Tourism Board all rallied in force to finalise all pending details of the island's biggest annual manifestation.
The meeting provided the perfect platform for everyone to learn more about the parade routes and the proposed road closures for the carnival in the heart of Victoria.
Since its introduction two years ago, the Carnaval International de Victoria has become the leading Indian Ocean event and after learning from the two previous carnivals, the artistic and production team will deliver another successful event after taking note of all the concerns brought forward by the public with regard to the two previous carnivals.
The artistic and production team pointed out that all is being done to ensure that the general public and all invited dignitaries are able to appreciate the best moment of the official opening ceremony on February 8.
Another major change will be the positioning of the judges, dignitaries and the public, including the flow of floats on Parade Day on February 9.
According to the artistic and production team the competition judges who will be looking out for the best floats should be in the frontline to determine the winners but at the same time ensuring the public have unlimited view of all the carnival procession.
"For the first and second carnivals the stage was built right in front of the Clock Tower.
This year will also be the case but there might be slight changes to its positioning for the benefit of the large crowd coming to see the opening ceremony," Jimmy Savy from the artistic team said.
Working with the artistic and production team at the meeting were the Minister for Tourism and Culture Alain St Ange, the principal secretary for culture Benjamine Rose and the special advisor to the minister Raymonde Onezime.
At the end of the meeting the artistic and production team together with the minister and his delegation went on site to visit the Clock Tower area where the official opening of the Carnaval International de Victoria will be held.