Local weightlifters get new equipment from IWF-Weightlifting
11-January-2013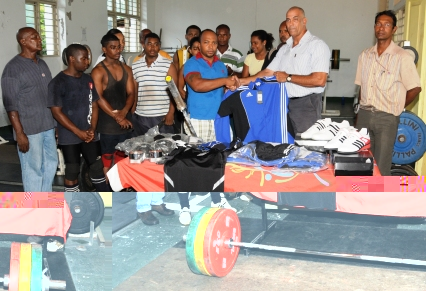 The batch of equipment include training suits, weightlifting T-shirts, T-shirts, leotards, weightlifting shoes, socks and two complete IWF-approved weightlifting training sets.
All the equipment has cost some R200,000.
The equipment was handed over to the lifters and coaches by the chairman of the Seychelles Weightlifting Association (SWA) Robert Rose, who is also a board member of the Weightlifting Federation of Africa, during a ceremony on Wednesday at the Freedom Square gymnasium. Executive members of the SWA were also present at the ceremony which Mr Rose described as "very significant for the association".
Addressing those present, the SWA chairman said "the equipment should be a boost to the sport and an inspiration to further progress and development".
He added that "with more hard work and devotion, more support will be made available by the sport's parent body".
Mr Rose noted that despite being not popular on the local scene, weightlifting has brought notable results and achievements for the country at international level.
He further added that the SWA will target youngsters and will continue to push forward, ensuring continued progress of the sport.
R. D.