Jean Larue gets new Wada mandates
14-January-2013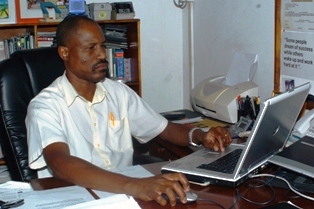 Seychelles National Anti-Doping Commission (SNADC) chairman Larue has also been appointed for another one-year term as a member of the ad-hoc working group of Wada's regional anti-doping organisation (Rado).
Mr Larue received those news through letters dated November 20, 2012 and November 28, 2012 and signed by Wada's director general David Howman and Rob Koehler, its director for education and programme development.
Wada's education committee provides expert advice, recommendations and guidance to the agency's management with respect to short-term education strategies and activities, and longer-term approaches to Wada's education programmes.
The committee is also involved in the selection process of Wada-funded social science research projects.
Other than Mr Larue, the education committee, chaired by American Patrick Ward, comprises Sultan Al Busaidi (Oman), Fatima Al-Maiki (Qatar), Zakia Bartagi (Tunisia), Merita Bruun (Finland), Leslie Buchanan (Canada), Fernando Caceres (Uruguay), Jean-Loup Chappelet (Switzerland), Patrice Cholley (France), Robert Donovan (Australia), Yuan Hong (China), Sylvana Mestre (Spain), Gobinathan Nair (Singapore) and Igor Zagorskiy (Russia).
Actively involved in the fight against doping at national, regional and international levels, Mr Larue, who in 2009 received the International Olympic Committee trophy – Sports and the fight against doping – was appointed a member of Wada's education committee for a three-year term on January 1, 2010. He was eligible for reappointment after his term.
Meanwhile, Social Affairs, Community Development and Sports Minister Vincent Meriton has been a member of Wada's Foundation Board since his appointment in 2011. This year, 2013, is his last in office.
The 38-member board is Wada's supreme decision-making body. It is composed equally of representatives from the Olympic movement and governments. Mr Meriton is one of three public authorities from Africa who sit on the board.
The board delegates the actual management and running of the agency, including the performance of activities and the administration of assets, to the executive committee, Wada's ultimate policy-making body.
Wada was established in 1999 as an international independent agency composed of and funded equally by the sports movement and governments of the world.
Its key activities include scientific research, education, development of anti-doping capacities, and monitoring of the World Anti Doping Code – the document harmonising anti-doping policies in all sports and all countries.
Wada is a Swiss private law foundation. Its seat is in Lausanne, Switzerland, and its headquarters are in Montreal, Canada.

It works towards a vision of the world that values and fosters a doping-free culture in sport.
R. D.