Up Close … with Andrew Padayachy, funeral director-'Helping people lay their relatives to rest in dignity is my life's work'
15-January-2013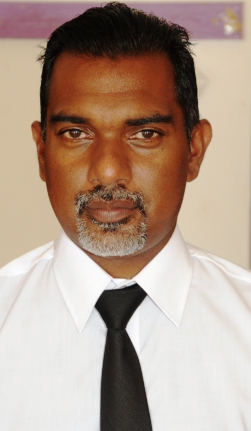 For Andrew Padayachy -- funeral director and owner of Padayachy's Funeral Services -- dealing with death is his life's work, and so he faces and deals with it on a daily basis.
I had often wondered how one fared in such a business and catching up with Andrew recently, he took me on a journey of discovery on how he has devoted his life to helping people lay to rest their relatives with dignity.
Growing up...
Andrew was born in a family of five children, who at that time lived at Bel Ombre, where his mother ran a small shop. At the tender age of three, he moved to Corgat Estate with his family, where he has lived to date.
Although the neighbourhood was rather notorious for its social ills, Andrew said it helped mould his character and he is proud of where he is from.
"I grew up around card-playing, drugs, alcohol, crime, but I have never allowed any of all that to get to me.
Although I have never taken drugs or fallen into crime, I did from a young age learn how to defend myself whenever I got into a fight!" he laughed.
Attending school first at St Paul's primary ¬at English River, he moved to Mont Fleuri when zoning was introduced and stayed there until S3.
"After that I would have followed the National Youth Service, but for various reasons did not do so and went to Mauritius instead to continue my education in Business Studies, 'O' an 'A' Levels," he said.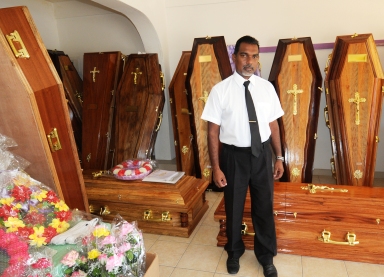 Upon returning to Seychelles a couple of years later with his diploma, he tried in vain to get a job, and after failing over and over to get employment, he decided to start his own business, and soon after Padayachy's Video rental opened its doors at Plaisance (today located at Mont Fleuri) and has been a success ever since.

Sometime after that, he saw an advert for cabin crew recruitment and decided to apply.
As luck would have it, Andrew was chosen.
"I told myself that I would stay for ten years on the job, and I set the targets I wanted to reach by then, but somehow found myself achieving them all in only five! So I decided to call it quits and moved back to help my family, who had just started the funeral business," he recalled.
Starting a funeral business back then

At that time, starting a funeral business in Seychelles was no small task.
In fact, at first, young Andrew – only 23 years old – couldn't even make a simple living from it, so he bought a car and started a taxi business.
"I would be a taxi driver by profession but whenever I got a call to handle a funeral, I would put the car away and jump into the hearse," he recalled.
"But in this business you have no working hours and have to be available at all times, literally. It could be 3am on a Christmas or New Year's Day, or even in the middle of celebrating your own birthday; in fact at any given time that one can think of really, and you have to be able to drop everything and go deal with the death when you get the call.
That's how committed you need to be, and it's exactly how committed I am," he said.
"But it certainly wasn't easy when I first started, in fact most of the time back then I only got to do one funeral per month, hence the need to also be a taxi driver at the same time!"
He also didn't even have his own hearse and had to borrow the one owned by the social security services to serve his clients.
He also had a run-down workshop with no modern electric tools – all the work were done manually.
And as for where he stored his coffins, he had no choice but to keep them in his own house!
"With time everyone got used to seeing piles of coffins around the house and nobody was bothered; they might as well have been furniture," he laughed.
Future plans
Today, Andrew owns eight modern hearses, seven funeral parlours, with two more due to open in the near future. He has a modern workshop at Providence with all the electric tools he needs to make the wide variety of coffins he makes available to clients.
He is furthermore delighted that one of his two sons who is about to complete his studies has decided to join the family business and is about to finance his son's further studies in the field of embalming that the company aims to venture into in the near future.

The company will also soon build Seychelles' first crematorium, have its own cold storage facilities (for bodies) as well as a chapel, and will soon provide Praslin with a hearse. Andrew aims to modernise, in fact revolutionise the way funerals are done in Seychelles.
"I'm forecasting that the cost of having a funeral in the future will not really increase.
This is because will all the facilities that our company is aiming to provide, a family can, if they wish, take a complete package of everything we offer, where they will for example be able to get their church service booklets printed here.
We also plan to be a one-stop shop, where we do everything. Actually, the family would have nothing at all to do except turn up on the day of the funeral and see that everything has been done for them," he said.
Experiences
Andrew shared his experiences of helping people through the difficult process of planning a funeral. While glossing over the more gruesome ones, he said he has gone through many, many interesting experiences over the years, some of which have had a lasting impact on him.
"I once did a funeral where there were three people about to be laid to rest at the same time.
I had just received my first hearse, and it was brand new, not even a week old.
When we were about to leave the cathedral, my hearse would not start. I tried over and over again, but somehow, just after the other two hearses had left, it started with no problem and everything flowed smoothly from then on.
I took it to the garage later and had it checked out, and there wasn't a single thing wrong with it.
I tried not to read too much into it, since I don't really believe in the supernatural, but it certainly got me thinking," he laughed, recalling the experience.
Did you know that it takes about 15 people to make one coffin, with each person specialising in one aspect of the design, such as polishing, decorating, lining, adding handles, and so on?
Another interesting event for him was when after one coffin had gone through the hands of over a dozen people from his workshop, and also the staff of the mortuary, and they were about to close the lid for the last time to head to the church for the service, someone noticed a hole at the head of the coffin on the inside.
"It was a perfectly round hole, as if made by a machine, but certainly not made by us. It was located exactly at the centre, as if someone had carefully measured it.
And most of all, that coffin had gone through the hands of 15 people who had inspected it and worked on it, but somehow everyone was blind to that one obvious presence and no-one could explain it. To date such a thing has never happened again.
Incidentally, it was that same coffin which was in my brand new hearse when it refused to start!!"
Funeral business: Making money out of people's tragedies? Not even close!
Contrary to what a lot of people believe, a funeral business is not one which makes money out of other people's tragedies.
Andrew believes that such a service is essential and somebody has to be there to provide it.

"As far back as I can remember, people have always paid for funerals in one way or another.
Back in the days you asked someone to make you a coffin, asked someone with a pickup to head the procession and you would pay for all of those.
Nowadays all these are provided by one company, and one finds oneself with fewer things to worry about," he said.
"For example, if we are to pick up a deceased and the family decides to take the other services we offer, then we do not even charge for the picking up, no matter what time of day or night or how far we have to travel."
He added that they also have various packages for various budgets and those less able to afford it can have a complete funeral package from his company for as low as R2200!

He said he goes much further than simply providing a service based on the package a client has taken; he genuinely expresses his sympathies to each family he serves, and always goes the extra mile.
"I always give everyone the same treatment, no matter how rich or poor," he said.

"And it is not such a profitable business as one might think. We put a limit on the profit that we make and with the many costs attached to running such a business, and us capping our profit margin, I would say that we just above break even."
An interesting fact is that the company almost never advertises its services, except to announce the opening of a funeral parlour, and chooses instead to rely only on word of mouth.
Hobbies
Married with two sons, Andrew said he rarely has time for hobbies, although he used to be a keen sportsman.
But on a Sunday when he has some free time, he will shut himself in his room and watch movies, a love for which he acquired when he opened his video rental business.
"I also love to watch the news and keep myself updated on current events," he said.

"That's roughly about it, since I'm practically married to my work, and am available 24/7, leaving little time to venture into anything else!"
by Ivan Hollanda