Australia tells of our success, hints will back our UN bid
17-January-2013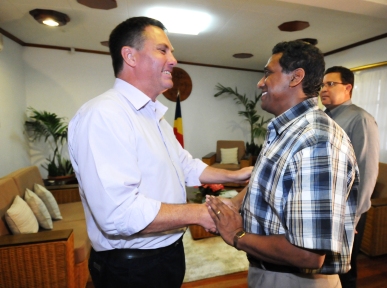 The country's parliamentary secretary for Pacific Islands affairs Richard Marles said this at State House Wednesay when he met Vice-President Danny Faure.
He said this is his second visit to Seychelles and commended us for what we are achieving economically and "what the country is doing with its fishing industry here".
He noted that the International Monetary Fund has increased its support for us on the basis of the big improvement in the economy.
"We are very pleased to be working with the Seychelles government and to assist in the wonderful economic story."
He said the talks he held with Mr Faure touched on the recently introduced value added tax and noted his country will be supporting the National Bureau of Statistics to improve its data gathering process.
Mr Marles said our success is an exemplary "good economic story for small island states like Seychelles".
"What Seychelles does in education, economically, the fishing industry are really impressive achievements and I talk a lot about what Seychelles does when I travel to other island states.
You do play a truly leadership role to other countries," he said.
He was accompanied to State House by Finance, Trade and Investment Minister Pierre Laporte and is here to attend the Indian Ocean Commission meeting which opens today, making it the first time his country has been represented at the IOC gathering here.
"As an Indian Ocean country ourselves we want to play a greater role in the ocean and support the nations' efforts."
Australia is the vice-chair of the Indian Ocean Rim Association for Regional Cooperation and the country has also been invited to the meeting in that capacity.
He thanked Seychelles for supporting Australia's bid at the United Nations where it was elected in October and said his country will be giving our bid "the highest regard".
"Our view of the role that Seychelles plays in the region we hold in the highest regard and there is no question that Seychelles would play a very significant role if it gets a chance to take part at the United Nations so we will be taking the bid in the highest regard," he said, when Nation asked him if Australia will be supporting our submission.