Labour and human resources development ministry notes 2012 successes
19-January-2013
Since the ministry's new administration took office in March 2012 under the leadership of Minister Idith Alexander, the ministry has continued to execute its mandate as main facilitator for employment and has striven to realise many new projects to promote decent work and human resources development in the country.
Activities undertaken included a job fair, the Productivity Awareness Week, the Human Resource Forum, Human Resources Development Audit and Seychelles Human Resources Development award.
Job fair
The job fair was first held on April 27 on Mahe to commemorate Labour Day. It attracted a crowd of an estimated 1,100 visitors.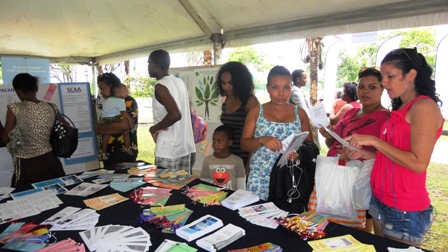 This is a good achievement for the ministry since a number of jobseekers were able to get employment after applying for a job during the activity.
The fair was also opportune for employers to meet potential candidates in a relaxed atmosphere.
The second fair was held on July 6 on Praslin and was also a first time activity on the island.
The last job fair for the year 2012 was on October 28 and was decentralised to Au Cap district.
From the small survey carried out by the ministry at the fairs, it was noted the activity was well appreciated by the general public.
It was an important means of encouraging the active population into productive employment, while reducing dependency on social welfare and foreign workers.
Productivity awareness week
As productivity continues to be at the centre of the department's strategy, a productivity awareness week was organised from May 14 to 18, 2012 to promote the importance of productivity in national development and to educate workers and employers on labour productivity.
Activities organised during the week were:
• Productivity conference for principal secretaries and chief executives
• Productivity workshop for human resources managers
• A schools' public speaking competition themed Prodwir plis pour plis rannman for secondary and post secondary students
A workshop on strategic planning for enhanced productivity was organised in September 2012 as a recommendation of the productivity awareness week to do a capacity gap analysis for effective implementation of strategic plans in organisations.
Human resources forum
A first human resources forum was launched in September 2012 as a platform for the ministry to strengthen partnership with the private sector.
The private sector today employs more than half of the country's labour force and it is therefore imperative for the ministry to move closer to private organisations to improve labour relations and working conditions.
From the two HR forums held in 2012, several presentations have been made with the HR managers such as; alternative dispute resolution, succession planning, non-Seychellois workers, human resources management, social renaissance.
Ministerial visits to private firms
A series of workplace visits by Minister Alexander was done in 2012 with the aim of strengthening partnership with the private sector and to be kept abreast of the labour issues and concerns of employees and employers and to promote good industrial relations and decent work.
During the visits, the minister interacted with the employees thereby learning about their working conditions.
Some of the major concerns identified from the visits are staffing, retention of workers, safety and protective gear and productivity.
In 2012, the visits were made to two farming establishments, two construction firms, two manufacturing companies and five tourism establishments.
Introduction of employment services at district level
In August 2012, the labour department announced that its officers will be based in district administration offices to help jobseekers with the necessary formalities when applying for a job.
The aim of decentralising this service is to reinforce the services given by the department in helping placement of jobseekers.

The service will also ensure that a person applying for social welfare at district level is also helped to get employment or alternatively enrolled on an employment training programme.
The latest number of jobseekers who have been referred to employing organisations and agencies in 2012 is 733 persons (525 female and 208 male).
Technical cooperation with ILO
After Seychelles took part in the 101st session of the International Labour Conference in Geneva in June 2012, the following activities were undertaken as part of the Decent Work Country Programme, which Seychelles has signed with the ILO.
• In July 2012, a workshop on occupational safety and health was conducted by safety officers, with the view to validate the findings of the second national occupational safety and health profile
• In August 2012, an ILO delegation was on a mission visit to discuss with government ministry' priority areas to be included in the review of the national employment policy
• In August 2012, a workshop on international labour standards was organised to strengthen our national capacity to improve compliance with reporting obligations
• In September 2012, a workshop on legislative implementation of the Maritime labour Convention was organised to validate the legal gap analysis of the Merchant Shipping Act and the MLC
Labour statistics
The quality and availability of labour market statistics remains a priority for the ministry in order to guide decisions and policy objectives. Following are some data on employment as at November 2012.
Registered jobseekers 998
Unemployment rate based on registered jobseekers 1.75%
Registered vacancies 2154
Placements 1935
Occupational accidents 74
No. of inspection visits 1136
Registered grievance cases 736
Approval given for redundancy 408 (workers)
No. of cases settled by Labour Department 278
No. of cases settled by Employment Tribunal 236
No. of public advised by Labour Department 3020
Human resources development (HRD) audit
A human resources development audit information session was held in November 2012 giving firms that took part information on the audit tool and process and a forum for discussion.
Additionally, an employee engagement and satisfaction survey was also carried out in these organisations in December 2012.
The activities are done to collect feedback from human resource practitioners and employees on the state of HRD practices in Seychelles. Its outcome will play an important role in developing and enhancing human resources capacity.
They have been described as a great initiative by those who have taken part.
Seychelles Human Resource Development (SHRD) award
Although the activity started in 2011, the major part of the SHRD award was done in 2012.
The award process is ongoing and nearing completion, with organisations having been visited by groups of jury members.
The winners of the competition will be announced early 2013. The main objective of the award is not competition-based, but rather another platform where HRD practitioners can form a network where best practices can be shared and discussed.
Contribution by the Ministry of Labour and Human Resources Development