Next Step replaces Singers of Charity
19-January-2013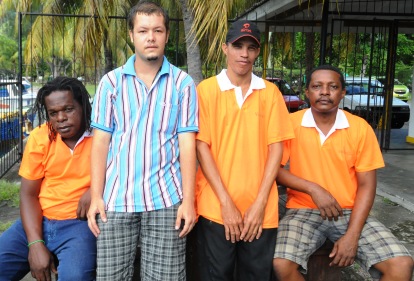 Sonny says after 10 years of existence it is time for the group to revisit itself, change its name and move on to the next level.
"Things were not always easy for the group. There were lots of challenges and many ups and downs," Sonny says.
He takes the opportunity to extend the group's sincere thanks and heartfelt gratitude to all the organisations and individuals who believed in members of the Singers of Charity and supported them each time they knocked on their doors.
Under the name Next Step, the group will give its first performance on Sunday February 3 during a family fun day at Grand Anse Praslin.
On that occasion the group will launch its new single entitled I'll Be There.
"The song talks about the need to be there and ready to help when someone needs a helping hand or support," Sonny says.
Next Step comprises Antoine Dorothé, Patrick Cupidon, Charles Morel, Sonny Dogley and Darren Reverra.
Sonny notes that soon the group will have its T-shirt to perform in and this is being sponsored by a local company.
Any singers who wish to join the group are welcome do so and Sonny can be reached on 2541516.
M-A. L.