New projects to address coastal erosion and soil salinity on Praslin
21-January-2013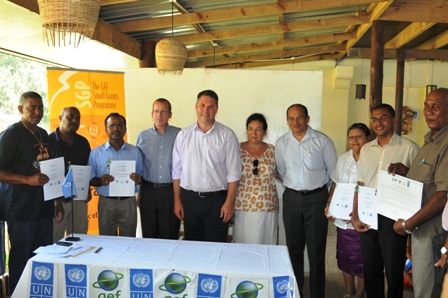 The two projects will be funded by the Australian Agency for International Development (AusAid) while being monitored and administered by the Global Environment Facility Small Grants Programme (GEF SGP).
The AusAid is the Australian Government agency responsible for managing Australia's overseas aid programme.

Details of the projects were presented on Friday at the Boat House, Beau Vallon in the presence of the Minister for Environment and Energy Professor Rolph Payet, Australia's parliamentary secretary for Pacific Islands and Foreign Affairs Richard Marles and Australian high commissioner to Seychelles Sandra Vegting.
The first project will address soil salinity at Baie Ste Anne, Praslin and the second coastal erosion on that island in general.
During the ceremony, five NGOs also signed an accord after their projects have been approved to receive funds under the Small Grants Programme (SGP).
The United Nations Development Programme resident coordinator Simon Springett was there to sign the accord.
The SGP is a corporate programme of the GEF that channels funds to communities and NGOs in developing countries to support the efforts of local people to conserve and restore the environment.
So far the Seychelles SGP has approved grants to the value of $1.75m which has directly benefitted local groups, leaving $500,000 still available over the next two years.

Les Li Viv, Wildlife Clubs of Seychelles, Plaisance community outreach committee, Artisanal shark fisher's association and Lions Club of Paradise Seychelles are the NGOs that signed the accord on Friday.
Each NGO have been granted $50,000 for the project.
The projects cover thematic areas such as biodiversity and chemicals-persistent organic pollutants.
GEF SGP national steering committee members were also presented with certificates.