Local transport company marks 35th anniversary-SPTC to invest in new technology for its buses
21-January-2013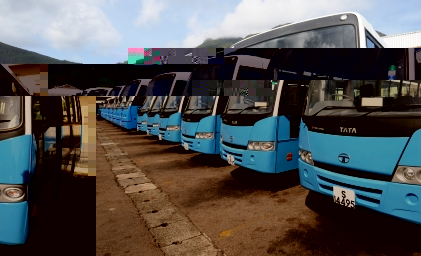 Minister for Home Affairs and Transport Joel Morgan made the announcement while addressing staff and guests at a special ceremony to mark the company's 35th anniversary.
Among guests present at the ceremony, held at the International Conference Centre on Saturday evening, were Vice-President Danny Faure, ministers, members of the National Assembly and high government officials.
Mr Morgan said discussions have already started for new hybrid diesel-electric and all-electric buses.
"As funding becomes available, the old fleet of SPTC will be replaced by the new technology people carriers," he said.
"The corporation will continue to explore all potential avenues in order to offer better quality and cost effective services, be it to cater for daily needs of commuters or for hire for memorable occasions."
Mr Morgan said establishing SPTC was based on the concept of enhancing the mobility of our people in general and of our workforce in particular which needed good connectivity and ease of travel.
He added that the company has undergone many stages of development since its inception, such as steadily providing improved services, better connectivity and frequency.
"It has through government grants continually invested in better buses for the comfort and safety of its passengers," he said.
Mr Morgan said it is important to note a significant decrease in the number of accidents involving SPTC buses.
Speaking about investments made in the company, Mr Morgan said the GPS system put in place last year has proven to be effective in tracking down the vicinity of buses, distance travelled and in producing speeding reports.
"It is important to point out that the corporation has done its utmost in safeguarding and protecting the customers' needs by maintaining affordability of bus fares," he said.
During the ceremony, contract supervisor Roy Lozaique gave a testimony of the years of service at SPTC and the major developments he has witnessed over the three decades.
The company also launched a book entitled 'A milestone in the development of public transport in Seychelles', copies of which were presented to Vice-President Faure, former chief executive of SPTC Veronique Laporte, among others.
Those attending the ceremony viewed a video showing the 35 years of SPTC and all that has been achieved.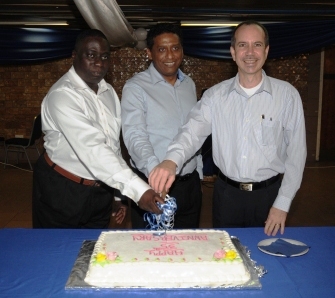 A 35th anniversary cake was also cut by Minister Morgan and the company's current chief executive Geffy Zialor, after which the employees and guests interacted in a special gathering in the adjoining SeaFront restaurant.