'Respect Life' DVD/CD to be given to dignitaries at carnival
21-January-2013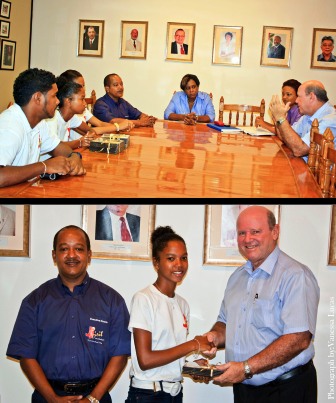 Twenty copies of the DVD and CD have been presented to the Minister for Tourism and Culture Alain St Ange by the executive director of the Jj spirit Foundation, Eddie Charles, and Tania Jeremie, one of the talented singers of the 'Respect Life' song featuring on the DVD and CD.
Mr Charles said that the "original version of Respect life DVD and CD recorded with the backdrop of Seychelles beauty is an ideal token of appreciation to give to dignitaries attending the Carnaval International de Victoria".
Accepting copies of the DVD and CD, Minister St Ange said that the "youth of Seychelles needs to open up to the world and showcase their talents".

He said that the DVD and CD giveaways will not only give "visibility to Seychelles but it will promote the youth of Seychelles talents on the International scene".

With the song 'Respect life' Seychelles took the 5th position in the Rio +20 global Youth Music Contest and 1st position in Africa.
Jj Spirit Foundation also presented Minister St Ange one of the Miss Seychelles … Another world portraits. The presentation was done by Isha Hoareau from the foundation.