'Taking care of marine life our top priority,' says conservationist-Oil exploration mission
21-January-2013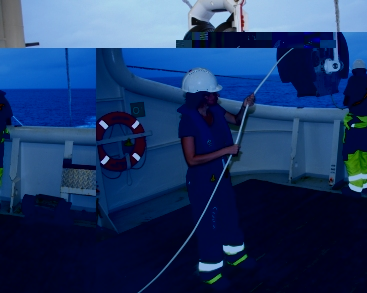 Senior conservation officer at the Wildlife, Enforcement and Permits Division Gilberte Gendron spent three weeks on board the Polarsus Adira, which is exploring and surveying Seychelles waters for oil.

The Polarsus Adira arrived in Seychelles in mid-December last year, and according to its programme, its oil exploration mission will go on until around February.
During her time on board – which spanned from December 18 to January 9 – Miss Gendron was representing the Ministry of Environment.
"There is a great concern over the well-being of the marine environment, especially in Seychelles' waters, and my mission was to ensure that the oil exploration activities were done without any harm to the marine environment, especially sea mammals," she explained.

"We were doing the monitoring according to a marine conservation policy that is being used in Europe and that we have adapted from the Joint Nature Conservation Conservancy, and which we are now modifying to fit Seychelles' context.
The policy ensures that minimum damage is done to sea mammals during such oil exploration surveys."
Her observations were done during both day and night, and during the day she did visual ones, and at night used a passive acoustic monitoring device, which is a long cable deployed in the sea attached to a hydrophone, which is able to detect and listen to any sea mammals if they are in the immediate vicinity.
At least an hour before each day's exploration work started, Miss Gendron would monitor the area for any sea mammals before the ship starts its exploration work with sonar equipment.

"We need to make sure marine mammals are not in the immediate vicinity because if the survey equipment goes off too near them, it could damage their sonar, which they use to navigate around with and talk to each other.
But we have not had any of these incidents in Seychelles waters nor during this trip," she said.
While not being able to comment on the actual exploration for oil in Seychelles, Miss Gendron – who was dealing purely with ensuring the well-being of marine mammals in our waters – said her time on board was an exciting one.
"The most interesting part was spending Christmas and New Year at sea on board an oil exploration vessel, it was a new experience for me," she said.
She added that the next step now for her is to analyse data she has gathered, and in the event that any other vessel comes to carry out oil exploration in Seychelles' waters, they would be sending people from her department to continue with the monitoring work to ensure the well-being of marine mammals.