Government 'satisfied' with progress of work on Savoy resort project
23-January-2013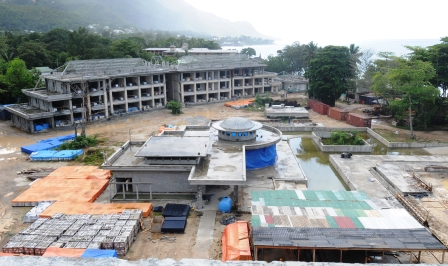 A delegation made up of various government ministers visited the site at Beau Vallon on Monday afternoon to see for themselves the advancement of the project.
The team included the Minister for Finance, Trade and Investment Pierre Laporte, Minister for Land Use and Housing Christian Lionnet and a number of other high government officials.
Speaking to the media, Minister Laporte said although work on the project has been delayed recently, they are now satisfied with the progress being made.
"After the recent dispute where the contractor's contract was terminated and which is being settled, the government has taken steps to help with the project's progress. This includes the government giving more permits for foreign workers to come in, the department of health giving certain concessions on living facilities, and the department of land management giving a piece of land to build housing for the workers," he said.
Minister Laporte said that the Savoy resort – a 164-room project – is a suitable size for the Beau Vallon area and will bring many benefits to the community and the country, such as employment, more tourists to our shores, and more tax for the government.
He added that the government will be more severe with developers who start construction projects and do not complete them although the constraints of the global economic crisis are understandable enough.
"We have made it clear to developers that either they shape up and complete their projects as promised, or the government will have no choice but to take back the land allocated to them since there are other investors waiting for such opportunities," he said.
The Savoy resort project is said to cost 54 million Euros.