Seychelles Young Leaders Programme -Third cohort ends year one, readies for year two
25-January-2013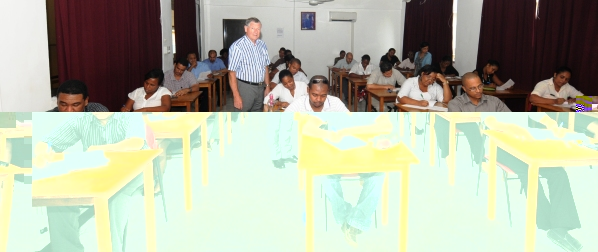 This week, they sat for examination in the modules of Finance, Economics and Research Methods of the MA degree in Leadership & Strategy. These formal examinations, combined with the written assignments submitted in mid-December 2012, comprise the overall assessment of the second semester of year one.
During November and December 2012, each SYLP student was assigned by the University of Seychelles (UniSey) to a district where, in collaboration with the district administrator, he/she completed a special one-month attachment which provided them a unique opportunity to apply the knowledge, skills and insights acquired during the leadership courses provided by both the UniSey and the Institute of Public Administration (IPA), Ireland.
At the conclusion of the district attachment programme, each student submitted a project proposal aimed at addressing a particular issue of concern in the district to which he/she was assigned.
Year two of the third SYLP cohort will commence on Monday January 28, 2013, when the 23 students will attend a dissertation seminar, which will be presented by visiting IPA lecturers Nathy Walsh and Rochie Holohan.
Under the direction of Lucy Athanasius, pro vice-chancellor of the UniSey, and in collaboration with Dr Micheal Mulreany, director general of the IPA, and Dr John Nolan, special advisor on Education to President James Michel, the main focus of year two will be the completion of a post-graduate thesis.
Guided by IPA supervisors, the SYLP students will select a research topic of particular significance to their area of work, or an issue of special importance or relevance to Seychelles, within a global context, and apply the research skills acquired in year one to undertake and complete their dissertations.
During year two the students will also be engaged in a one-month overseas attachment programme, arranged by the UniSey, the aim of which is to provide them with a carefully selected international work experience, in a different cultural environment, that will extend their professional development and leadership capacity.
Moreover, it will also build on the academic and practical knowledge, skills and insights they experienced during the two-year SYLP course. At the conclusion of this programme, the students are required to submit a report on their experiences, and to make an oral presentation at a plenary meeting of the third SYLP cohort, so that added value is derived by the group from a sharing of individual international experiences.
In the second half of 2013, the SYLP students will attend a series of half-day business French sessions, arranged by the UniSey in collaboration with the Alliance Française. This course component was added to the two-year SYLP at the behest of President Michel, patron of the SYLP, who considered that it would be important for SYLP students, as potential future leaders, to acquire a good standard of spoken and written French.