Seychelles envoy donates water machine to Indonesian air force
25-January-2013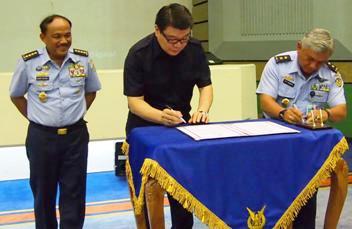 This follows the 'environmental defence for global friendship' which was launched in October 2009 by the Indonesian National Defence Forces together with the Seychelles Consulate in Jakarta and attended by 27 ambassadors from foreign missions based in Indonesia.
Indonesia is an archipelago of 17,000 islands. Clean and healthy water is a basic need for the people especially those in the remote islands who have no access to water resource.
The new water technology is the solution. The simple installation of the machine can harvest about 1000 litres of drinkable water from the air to answer the desperate need of water for a small island with 200 inhabitants.
During the official hand over of the machine last month at the headquarters of the National Air Force of Indonesia, the Chief of Staff of the Indonesian Air Force reaffirmed that such assistance is taken into highest consideration and that the Air Force can also use the machine during recuperation of disaster victims and the air force personnel station in the remote islands or radar centre throughout Indonesia.
The hand-over of the water machine has been made possible through the patronage of EG (Essential Green) Water and the Seychelles Consulate in Jakarta as part of the social care programme to provide clean and healthy water to the people living in urban slums of Indonesia and to isolated communities.
EG Water is a niche technology improvised by mother nature on moisture process. The technology comprises withdrawal of air and through a process of ultrafiltration, the water is further purified by a series of filters to ensure proper and optimum performance.
The resulted water is ready to drink and has been approved as meeting World Health Organisation (WHO) standard.
Further, EG Water technology is designed to be energy efficient and is equipped with micro computer and electronic controls to ensure proper and optimum performance. The result is high quality, good tasting water.

Earlier last year, a student following the Seychelles Young Leaders Programme undertook internship at EG Water Singapore and acknowledged that healthy water by eco-friendly technology is important to make a better future for living.