More donations for upcoming carnival
26-January-2013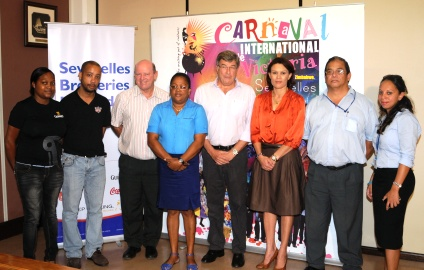 Representatives of these three organisations met the Minister for Tourism and Culture Alain St Ange and chief executive of the Seychelles Tourism Board Elsia Grandcourt this week at the National Cultural Centre.
The Seychelles Civil Aviation Authority has made a contribution of R50,000, ten tents and will decorate the airport to make it welcoming for the carnival teams arriving in Seychelles.
Seychelles Breweries Limited has pledged to donate R50,000 in cash and R25,000 worth of products for the carnival.
The Eden Island has sponsored free accommodation worth R250,000 for the Notting Hill carnival delegation during their stay in Seychelles.
Mr St Ange thanked the partners for their contributions and urged other businesses and the private sector to come forward to make the carnival a successful event.
He also called on businesses in town to decorate their buildings for the event set for February 8-10.