Cuba welcomes Seychelles support in global arena
26-January-2013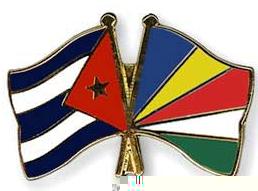 "The vice president of the National Assembly of Seychelles, Andre Pool, on Wednesday highlighted the convergence of positions with Cuba on numerous issues in the international arena and the willingness to support it whenever necessary," read a headline story in the Prensa Latina.
The Latino Information Agency carried stories featuring a recent visit of a Cuban delegation here, welcoming Mr Pool's wish that the country's nationals held elsewhere may be released soon.
He said the deputy speaker made the remarks when he received the director of the Cuban Foreign Ministry Hector Igarza and the chargé d'affaires of Cuba in Seychelles Orlando Álvarez.
Mr Álvarez was on a familiarisation visit after his recent accreditation.
"Mr Pool told Prensa Latina that they exchanged ideas on the status of parliamentary relations and the possible actions of solidarity with the island," said the media.
During Mr Igarza's two-day visit here he met Mr Faure, Health Minister Mitcy Larue and senior officials from agencies working with Cuba.
Mr Faure expressed his appreciation for the cooperation that Cuba offers Seychelles especially in areas such as health, sports and agriculture.
Mrs Larue talked about the successful work done by Cuban doctors in Seychelles.
Mr Igarza also met the principal secretary for foreign affairs Ambassador Maurice Loustau-Lalanne with whom they talked about bilateral cooperation between both countries.
A press release issued yesterday by the National Assembly said it and the people of Seychelles will continue to support the government of Cuba in its campaigns.
Mr Pool – who is also the chairperson of the International Affairs Committee of the National Assembly – reiterated what he told the Cuban delegation.
He expounded on efforts being made by the National Assembly to uphold the Seychelles-Cuban Parliamentary relations, noting the Assembly has nominated Member of National Derek Samson as the representative for the Seychelles-Cuba parliamentary friendship association.
"The National Assembly has acted in solidarity with Cuba on other international issues for example for the reintegration of Cuba in the African, Caribbean, Pacific – European Union Joint Parliamentary Assembly. In addition, the National Assembly supports the government's plan to open a Seychelles embassy in Cuba.
"An embassy for Seychelles in Cuba will be an excellent opportunity for the two countries to further enhance bilateral cooperation and the people of Seychelles are grateful for the generous help being given to us by Cuba in various field, including health and education," he said.
The next regional solidarity meeting will be held next year in Havana, Cuba.