Deaf children camp in family atmosphere
26-January-2013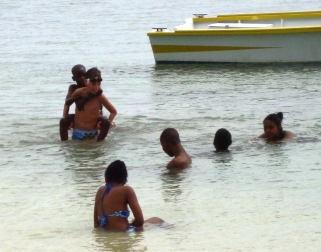 This year the children, their teachers and animators set up camp last weekend at the Au Cap primary school.
"It is very important for deaf children at an early age to take part as much as possible in social activities with their peers because this is when the deaf culture is developed," said Aphi chairperson Anita Gardner.
"This is when they feel a sense of belonging as they are able to do things like anyone else and during a little time away from home, they learn to become independent," added Mrs Gardner.
She noted that when the association organises such camps it tries to include a variety of things for the children to do such as games and other educational activities.
On the first day of the outing on Friday evening, Mrs Gardner said the group set up camp in the allocated classrooms and all the members helped to prepare dinner.
"They were all excited because this time instead of being in these classrooms as students with teachers, they were there to sleep and have fun!" she said.
On Saturday, the group visited the Craft Village and also explored the marsh nearby.
The marsh at that time was full of crabs and the children had some real fun really running around and enjoying themselves while at the same time discovering all the other denizens of the marsh.
After the visit the children spent the afternoon baking cakes with Jonette Dogley, a member of the Aphi.
Sunday morning the children baked pancakes and after a delicious breakfast they spent the rest of day having fun on the beach.
"During the evenings at the camp the group talked about their experience of the day, played dominoes and other indoor games," said Mrs Gardner.
Everyone woke up on Monday morning to clean up the classrooms as it was also the start of a new school term.
The children were all dressed up and ready by 7.45 to welcome their teachers with lots of encouraging words and pictures which they each wrote and drew on the blackboard.
Mrs Gardner said teachers, parents and animators always enjoy preparing and taking part in those camps because "this is the time they get to know each of the children better in another environment. They learn about the children's dreams and interests, their individual capacities.
This also helps the Aphi to better design programmes according to the children's needs".
Aphi takes this opportunity to wish all the children a good school year 2013 and also extends its heartfelt thanks to the Au cap school, the parents and volunteers who made the camp a success.
The next camp is expected to be held on La Digue.
M-A.L