Ile Perseverance children move into new school
29-January-2013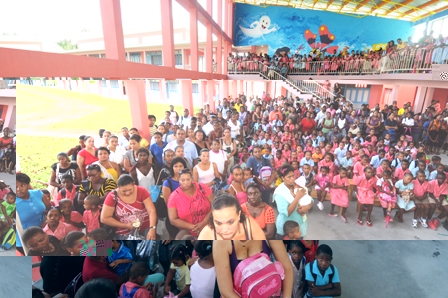 In the presence of Education Minister MacSuzy Mondon and principal secretary Merida Delcy, the school's head teacher, Nella Belmont, told the assembled pupils and parents of the school's expectations.
She said the Ile Perseverance school expects pupils to be punctual every day for classes, to adopt a positive attitude and work hard at their studies.
Ms Belmont also said pupils are expected to abide by the ministry' code of conduct and stressed that the ministry and school are counting on the support of parents and the community.
She also informed parents that pupils can have lunch from the school meals centre for only R112 per term – which boils down to just R2 per meal.
However, parents with limited financial means can apply to benefit for help for the meals and uniforms from the 'Dedicated Funds'.
Following the assembly, all pupils, accompanied by their parents, were escorted to their respective classrooms by their teachers.
This first school assembly started with the blessings of Father Louison Bissila, parish priest for Ile Perseverance.
Minister Mondon, who last week met parents of the Ile Perseverance pupils urging them to inculcate moral values and good behaviour in their children, said in a press interview after the assembly that she is satisfied with the cooperation received so far.
She said that before the assembly she also had an opportunity to talk to parents and listen to some of their concerns.
Referring to the school's novel architecture, shaped like a big circle with a small amphitheatre in the middle of the grounds, Ms Mondon said the objective has been to provide a spacious and airy structure. "We have tried to move away from conventional models," she said.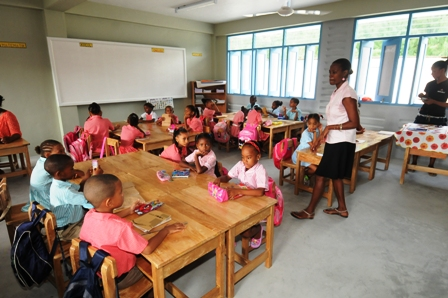 The small amphitheatre can be used to accommodate performances at the school. She said that if the concept proves to be successful and popular, then it can be adopted for future schools.
Ms Mondon said the Ile Perseverance school has been conceived as a three-stream establishment, though all classes are starting out as just two-stream. The school, she said, has the human and material resources for expansion. There are some 40 teachers and auxiliary staff.
Ms Mondon noted that while secondary pupils from Ile Perseverance are still schooled at the same establishments as last year, plans have been approved for Ile Perseverance to have its own secondary school.
She added that since Ile Perseverance is rapidly expanding, with many more housing units being built, it is also envisaged to have a second primary school in the future.