Disaster-hit residents welcome agencies' swift action
29-January-2013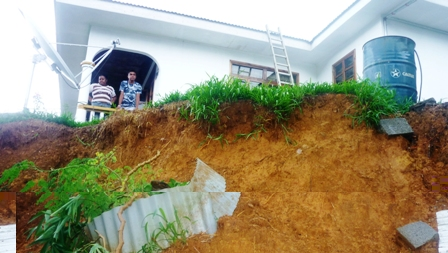 A Cayole – Anse aux Pins family whose house was inundated by floods from a newly created "river" said they were surprised to see officials and teams from other districts coming to their aid.
"I was a bit confused to see Les Mamelles district administrator Doris Kiwale deep inside my district but then the grateful family realised the government was pooling together all its resources to help its people," said a member of the family who asked not to be named.
He said the group included Disaster and Risk Management officials who took pictures of landslides and other forms of situations that need to be addressed, as other teams helped residents to clean up mud which had filled up their houses.
The teams worked under the guidance of officials from the Anse aux Pins district administration.
"A total of 350 families have been affected so officials from just one district cannot be able to cover all the places so we joined the affected districts to help," Mrs Kiwale told Nation in the highland areas of Anse aux Pins, where landslide and collapsed walls were the major problem along with flooding, which affected low lying areas also, especially on Saturday.
Another family was full of praise for the Seychelles People's Defence Forces personnel, "who came just before floods from the (yesterday's) mid-morning rain hit our house again".
"They quickly dug a channel and diverted the water. The risk of flooding is gone – for now at least," they told Nation.
Unlike the low-lying grounds which suffered only from flooding, houses on inclined ground were hit in pairs generally.
Soil, rocks and trees would dislodge from the lower parts of homes and be flung at speed to the home further down destroying it or covering it in mud.
Embankments close to houses gave way to the weight of water from the heavy rains and they slammed into houses, filling the homes with water and mud.