Mahé dries out under sunshine after rain
30-January-2013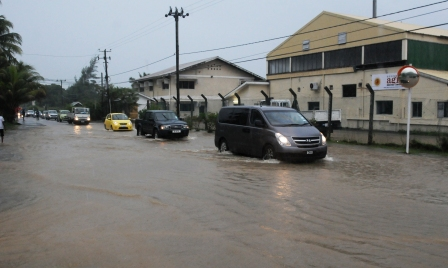 It was nice to see people lower their umbrellas, open their car and house windows, and even take a tan.
Tropical depression Felleng had brought torrential downpours which drenched all of Mahé on Saturday, Sunday and Monday, but the districts of Cascade, Pointe Larue, Anse Aux Pins and Au Cap on the east coast of island were the most hit.
Hillsides eroded causing mudslide that pushed houses off their foundations, filled houses or even destroyed some completely.
Heavy rainfall and runoffs caused small streams and big rivers to overflow, resulting in flooding of low lying areas and roads. Cars even stalled and the police had to stop motorists from using the flooded roads on the east coast of Mahé.
Speaking to Seychelles Nation, principal meteorologist Vincent Amelie said that tropical depression Felleng picked up strength to be upgraded to tropical cyclone yesterday morning and it moved south bringing with it clouds that could have produce rainfall over Mahé and the inner islands.
Mr Amelie added that they had yesterday issued a strong warning for the country's outer islands like Farquhar which had been experiencing bad weather and heavy rains as cyclone Felleng continued moving south where it will hit parts of Reunion and Madagascar in the coming days.
By yesterday afternoon, cyclone Felleng was 800km north of Reunion and already there were big waves forcing the authorities to deny members of the public access to beaches.
Mr Amelie noted that the average rainfall recorded in east Mahé from 7am on Monday to 7am yesterday was 200mm, meaning the long term mean of 400m for the month of January was surpassed twice, reaching 800mm.
Meanwhile, the Ministry of Education has decided to keep the Pointe Larue, Anse Aux Pins and Au Cap schools closed, while children living in Glacis and who attend school at Bel Ombre and Beau Vallon have to stay at home for the second consecutive day after a big rock fell onto the road at Glacis blocking the way.
The Pointe Larue, Anse Aux Pins and Au Cap schools have still not been cleaned after their compounds and some classrooms were flooded by heavy rains.
Seychelles Nation learned from the command centre that 40 people whose homes have been destroyed or are in risky areas are still being sheltered in hotels and at the Maison Football.
There were reports of more flooding on Mahé, Praslin and La Digue on Monday night, forcing the authorities to raise the red alert which has been deactivated.
Officials of the Ministry of Health are also disinfecting many areas where septic tanks have burst and are closely monitoring the situation, said a spokesperson from the command centre.
Attempts by Seychelles Nation to get the number of reported cases for help were unfruitful.