Karate-Shihan Celestine re-elected as local karate head
30-January-2013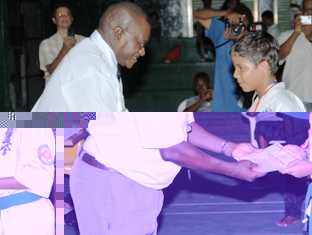 He was re-elected during the federation's annual general meeting which took place on Saturday at the La Promenade Gymnasium.
David Esparon of Combat Tang Soo Do is the vice-chairman, while Gretel Valentin from Kimura Shukokai is the federation's secretary general. She will be assisted by Northern Tang Soo Do's Louis Vidot.
Christopher Hoareau of Kimura Shukokai is the treasurer and he will be assisted in the post by shihan Phillip Moustache of Kyokushinkai.
The federation's ordinary members are James Faure (Northern Tang Soo Do), Shihan Phillip Verghese (Kyokushinkai), Georges Cherry (Joshinmon), Andre Lucas (Combat Tang Soo Do), Vincent Benstrong and Martin Lebon (Ashihara).
Other than working on the calendar of activities for the year, Shihan Celestine said the executive committee will work on the federation's constitution, reformatting it to meet the ongoing progress and demand of the sports.
He added that emphasis will also be put on joint training, especially in the field of officiating and also at national team level, while they will also work on a new scheme to reward athletes, especially the younger ones. This, he said, will encourage them further, building their interest in the sport.
Shihan Celestine also said they will amplify the work in preparing the athletes for the Indian Ocean Island Games (IOIG), as well as their campaign for the sport to secure a spot at the games.
In terms of youth development programme, Shihan Celestine said it occupies a great part of the federation's calendar and programme and they will be looking into the possibility to work with other potential partners, all with the aim of attracting more youth to the sport and pushing those who are already practising karate to take it more seriously.
He also urged for the support and collaboration of everyone involved to better deliver and push Seychelles' karate to another level.
R. D.