Football: Transfer saga of 2012-La Passe, Anse Reunion did not breach SFF regulation
30-January-2013
In the report dated January 17, 2013 and signed by the chairman of the arbitration panel, Brassel Adeline, it is written that La Passe club president Gerard Lablache requested an arbitration after the team lost all the points for all the matches Fagnorena took part in.
According to the report, the transfer window for the 2012 football season closed on March 10, 2012 and former Seychelles Football Federation (SFF) chairman Joel Decommarmond allowed La Passe to register Fagnorena and the registration was effected by secretary general Jemmy Adela.
Mr Lablache argued that his club had not breached any SFF regulation and not even Fédération Internationale de Football Association (Fifa) regulation on registering Fagnorena as a player with the La Passe team.
He added that the transfer and registration of Fagnorena was in accordance with Fifa regulations.
Under article 6 – Registration periods – of Fifa's 'Regulations on the Status and Transfer of Players', players may only be registered during one of the two annual registration periods fixed by the relevant association. As an exception to this rule, a professional whose contract has expired prior to the end of a registration period may be registered outside that registration period.
Associations are authorised to register such professionals provided due consideration is given to the sporting integrity of the relevant competition. Where a contract has been terminated with just cause, Fifa may take provisional measures in order to avoid abuse, subject to article 22 (which deals with the competence of Fifa).
The report containing the findings of the arbitration panel contains three points.
Firstly, Fifa 'Regulations on the Status and Transfer of Players' is implied into the SFF's domestic regulations given that the federation is a member of Fifa which is the international regulatory body.
Secondly, the transactions were in accordance with Fifa regulations and therefore there were no breach of any regulations, neither Fifa regulations nor SFF regulations.
Third and finally, the deduction of points as recommended by the SFF executive committee was found to be unwarranted and unjustified and therefore was set aside.
As a result, La Passe, who had six points deducted from their tally, have been given back their points, bringing their final tally to 40 points to finish as runners-up to Barclays league division one champions St Michel who won the title with 42 points.
Also embroiled in the transfer saga, Anse Reunion have finished fourth with 32 points after the decision to deduct 15 points from their tally was overturned. They have finished the season with 32 points, five less than third-placed finishers Côte d'Or of Praslin.
We also publish the final Barclays league division one table for the 2012 season.
Barclays league division one league table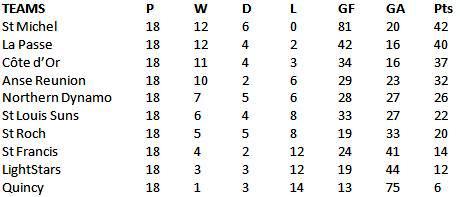 G. G.