Seychelles' delegation at FITUR unite to consolidate country's presence in Spain
02-February-2013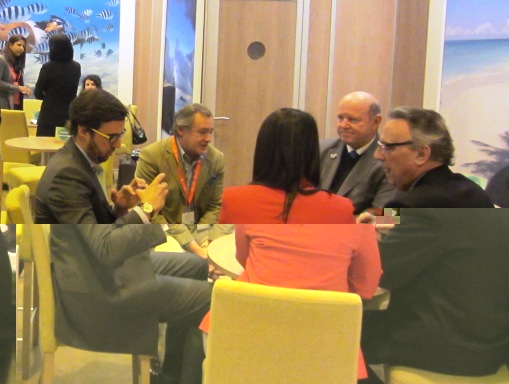 Minister St Ange was heading the Seychelles delegation at FITUR 2013 and took the opportunity to meet Bernadette Willemin, the director for Europe for the Seychelles Tourism Board (STB) and Joan Gaspart Solves, the general honorary consul of Seychelles in Spain based in Barcelona, and José Manuel Lapena Casamayor, the honorary consul for Madrid.
The meeting, which took place at the Seychelles stand on the opening day of FITUR 2013, was the opportunity for the Seychelles consul general and his consul based in Madrid to update Minister St Ange and Mrs Willemin on the outbound market from Spain and also how Seychelles is being seen in Spain.
Seychelles is not after the large volume business out of Spain and this is seen as the best approach for the islands to keep positioning themselves in selected niche markets. Honeymoon holidays and diving holidays have been working well for Seychelles over and above the free independent travellers looking for the ultimate in island holidays.
The tour operator meetings at FITUR have confirmed that Seychelles has a name for itself and that the target selected approach by the STB should be continued.
Connectivity to Seychelles from Spanish holiday-makers is working through the Middle East hubs with daily flights from both Madrid and Barcelona.