Olympic Solidarity-Coach Legras joins the Paisac ranks
02-February-2013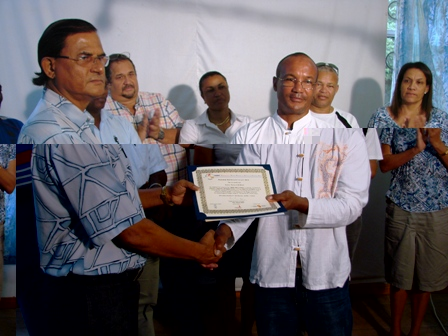 The training was in the framework of the Olympic Scholarship Programme for Coaches of the Olympic Solidarity of the International Olympic Committee and falls under the International Support Programme to the African and Caribbean Sport (Paisac) – a Canadian sports programme based on international cooperation, aiming at sustainable development through sport.
While in Canada from September to December last year, coach Legras followed modules 1, 7, 8, 12, 16 and 17 of the advanced programme in coaching, totaling 100 hours.
He also followed the theoretical components of competition development levels one and two, as well as the competition development level three of the National Coaching Certification Programme (NCCP) of the Coaching Association of Canada.
Coach Legras received his certificates yesterday from Seychelles Olympic and Commonwealth Games Association (Socga) president Antonio Gopal during a ceremony at the Olympic House, Roche Caïman in the presence of Socga secretary general Alain Alcindor, members of the association's executive committee and Seychelles Boxing Federation chairman Hervé Anthony.
Before handing over the certificate, Mr Gopal said it is a plus for Seychelles to have someone with the knowledge and quality of Legras, as he will contribute greatly to the development and progress of local boxing.
He added that the extra knowledge earned, along with the existing experience of coach Legras will bring additional elements to the sport.
As for coach Legras, he described his Canadian experience as the perfect asset to boost his work with local boxers. He added that the training will not benefit only him as a coach, but will also help the sport, the federation and the country as a whole.
He added that the knowledge gained will also allow him to better work and exchange ideas with his two counterparts to the advantage of local pugilists.
Paisac's mission is to take part in sports development in the African and Caribbean countries, members of the Commonwealth and the Francophonie, by means of training in order to contribute to the revalorisation of the role and function of the technical sports administrators in these countries.
R. D.