New Dornier aircraft to boost maritime security
04-February-2013
Representing President James Michel, the Seychelles Minister for Foreign Affairs Jean-Paul Adam accepted the aircraft on behalf of the government of Seychelles at a handover ceremony in Delhi on Friday presided by India's Minister for Defence A.K. Anthony.
Minister Adam said that the delivery of the Dornier is a mark of the commitment of India to support Seychelles' maritime security needs following high level discussions between President Michel and Indian Prime Minister Dr Manmohan Singh.
In his remarks at the ceremony, Minister Adam said that the security partnership between the two countries was exemplary.
"When Seychelles approached India for help to fight piracy, our small economy was under siege from the effects of this scourge. India immediately dispatched one of its own Dornier aircraft to help Seychelles until this Dornier would be ready for delivery. We are pleased and proud today to receive this brand new asset - our very own Dornier - which means that we can proudly speak of our own 'Seychelles Air Force'."
Minister Adam added that the partnership between the two countries was also a partnership between people, and that capacity building was an important feature of this relation.
A total of four Seychellois pilots are being trained on the Dornier under the agreement between the two countries. Major Michael Pouponneau, Commanding Officer of the Seychelles Air Force, was also present in Delhi to witness the hand-over.
Minister Anthony noted that the Dornier had been built by the company HAL and had been completed three months ahead of schedule.
He also reiterated the importance of the strategic partnership between the two countries.
The new aircraft is equipped with state-of-the-art radar and surveillance equipment, and will be a key asset, not only in the fight against piracy, but in terms of wider maritime security including the fight against drug trafficking and illegal fishing.
The Indian government will also continue to deploy experts in Seychelles to facilitate the integration of the aircraft into Seychelles surveillance system, while there is also provision for continued maintenance of the aircraft with Indian support.
The aircraft will remain in India for a further one month while the pilots finalise their specialised training after which it will be flown to Seychelles to take up its role in the forefront of Seychelles' defence.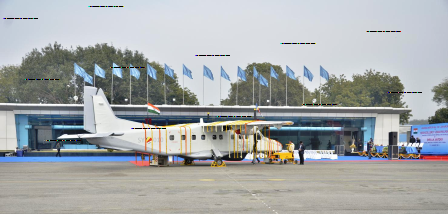 In concluding his remarks at the ceremony, Minister Adam stated: "When India looks South, you can know that you can count on a dependable partner in Seychelles, in the same way that Seychelles knows that we can count on India."
India and Seychelles have a long history of defence cooperation, including the previous donation of Topaz and Andromanche patrol vessels currently in use by the Seychelles Coast Guard and have been active in the fight against piracy.