Education ministry announces changes
08-February-2013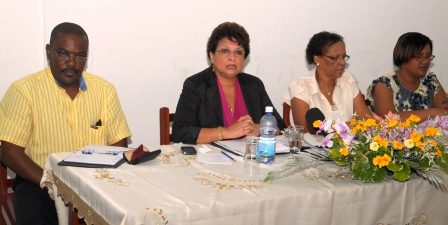 Minister Mondon and her team addressing the meeting yesterday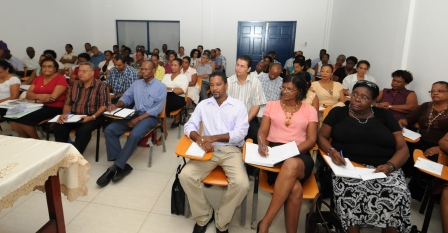 It was hosted at the Maritime Training Centre in Providence to encourage the directors of school at those levels to interact so that their organisations may know each others' expectations.
Mrs Mondon invited the heads to take the chance and familiarise themselves with the school, which they did.
Leaders of the various sections in the ministry apprised the directors of the changes that have taken place recently.
Among the key changes with staff include the creation of the policy physical infrastructure and resources planning division from the policy planning division so they now stand as two separate entities.
Charles Confait has been named the director general of the new division.
Justin Valentin is the new director general for policy planning while Wilfred Uranie now heads the education management information system section that now has Alain Theresine as its new statistician.
Robert Mondon is the database administrator, while senior laboratory technician Alain Belle has been transferred to the centre for curriculum assessment and teacher support (CCATS).
The schools division has been split into two with Cyril Pillay as the director for primary schools and Veronique Figaro as the director for secondary schools.
Nadia Lauricourt has been transferred to the curriculum unit as the curriculum development officer for French.
Senior nursing officer Brigitte Labonte now occupies the ministry's newly created health promotion coordinator's post as Odile Decommarmond becomes the new principal education officer for CCATS replacing Egbert Benstrong who moves to the principal secretary's office as the principal education officer for special duties.
Josianne Bristol is the new director of the School of Business and Accounting replacing Joan Amade who has been transferred to the ministry's headquarters.
From January 1, 2013, all accounting staff and technicians are employees of the Ministry of Finance, Trade and Investment regardless of the ministry they work for.
Education ministry's financial controller Melinda Malbrook explained to the head teachers how they are now expected to liaise with her office so as to be in tune with the changes.
Other issues discussed at the meeting included assessments and examinations, citizenship education in post secondary institutions, special education needs, pastoral care, implementation of the code of conduct and selection for post secondary as well as recruitment of teachers.
Nation hopes to publish further details from the meeting soon.