Aromatherapy Beauty Centre & Spa - Your escape to luxury
11-February-2013
Situated in a tranquil location at the foot of the Eden Island bridge near the Angel Fish Marina, the centre exudes an aura of relaxation, peace and calm as soon as one steps in. This feeling is accentuated by the ever smiling and welcoming Anna Marzzochi, the centre's managing director, and the soothing glow and colour emitting from every room.
The Aromatherapy Beauty Centre & Spa is committed to making every client's visit the most delightful experience as their beauty, health and well-being are its main concern. Though being the oldest beauty centre and spa in Seychelles, the centre prides itself on providing the best care through its treatments.
Aromatherapy Beauty Centre & Spa, which offers a professional service in an elegant ambience, boasts twelve years' experience in professional beauty centre and spa treatments. It employs eight qualified staff comprising certified beauty therapists from both Seychelles and abroad. Additionally, to the various equipped treatment rooms, the spa also has sauna and recreation facilities, which can be enjoyed before or after a massage, or simply by its own.
The treatment rooms are stylish, furnished with a sense of elegance to accommodate the taste of each gender. Tastefully chosen fragments of essential oils fill the air and welcome the clients to relax. In the male treatment room the furniture is also classic natural colours decorated to a men's taste. As for the ladies, the rooms have a certain elegant feminine touch, perfect to set the scene for an enjoyable relaxation and treatment.
Services on offer
Various services are on offer at the Aromatherapy Beauty Centre & Spa and these include: massages – slimming & toning packages, body scrubs, facials, waxing, eyebrow tiding, eyebrow / eyelash tint, manicure, pedicure for both men and ladies.
Various nail art possibilities and extension for ladies are available, as well as an in-house hairdressing salon.
Backaches, tense muscles, stress symptoms can be restrained by regular visits to the Spa, thus leaving the client feeling well just after the first session.
As for massages a wide range are offered suiting every need: relaxation, toning, skin nourishment, deep cleansing and firming. For facials there are facial hair tiding and other eye-area treatments. It must be noted that facials offer solution to various issues be it detox, rehydration, deep cleanse, anti acne, uplifting and rejuvenating or anti-aging facial. The improved skin texture after such treatments will leave the costumer satisfied. This service is available for both gender.
The salon which caters for the most sensitive skin uses top range quality products from ANESI and L'Oreal.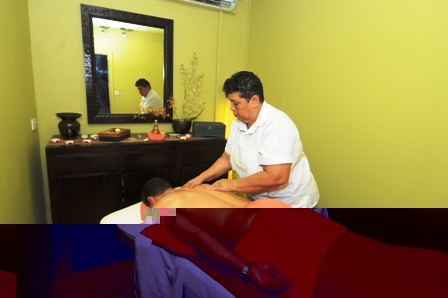 Manicures/pedicures
Looking after feet and hands is a must nowadays. Soft and good-looking hands and feet are an immaculate impression of a well groomed appearance. Not only can the client get rid of ingrown nails and other painful sores, regular visits to the beauty centre is a good way to keep your feet healthy. A pedicure cleans feet, provides nail care and foot massages. A good one can be very relaxing and therapeutic. Beautiful nails are also an asset and our therapists can assist the ladies in making their nails looking glamorous and stylish with top notch nail polish and for men a natural, well-filed and shaped finished.
Waxing and other hair removal
To feel smooth and clean of those unwanted hair, hair removal is a necessity. Tiding and waxing can do that very well. Various choices are available at the Aromatherapy Beauty Centre & Spa. These range from bikini line to leg and underarm. For gents back and chest. Various amount of packages are available to suit every need.
Sauna and Hairdressing Salon
The Aromatherapy Beauty Centre & Spa offers solutions to all hair types for both genders through its experienced hairdresser where all the clients' hair style preferences are met. A wide range of hair colours, perms and treatments are also available to keep the hair in top condition.
Promotions
Available are attractive promotions on a regular basis by introducing a variety of treatments to new clientele or a premium and thank you to its loyal long-term ones. The Happy Hours which is an on-going promotion during the daily lunch hours 1200hrs – 1500hrs from Monday to Friday for businessmen, offers back massages at half price, at only SCR250. By booking a full body massage a free manicure is granted.
As for ladies there is a Ladies Special on Mondays and Tuesdays from 0830hrs to 1300hrs during this month of February. Aromatherapy Beauty Centre & Spa offers 20% discount on any treatment at the hairdressing salon. By introducing a friend to the salon for some treatments, the client gets her hair styled (washed and blow dried) free of charge. Aromatherapy Beauty Centre & Spa Gift Vouchers are also a special treat that is not to be missed. It is worth noting that easy parking is also available.
So, a visit to the Aromatherapy Beauty Centre & Spa is very worthwhile. It is certain guests will leave feeling pampered, confident, rejuvenated and beautiful.
Compiled by M.J.