Catholics in Seychelles saddened by Pope Benedict's resignation
14-February-2013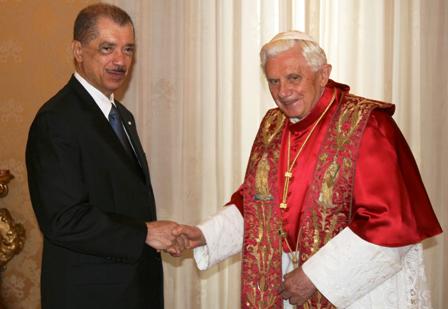 "It is with consternation and deep sorrow that the people of Seychelles have learnt of your decision to renounce the Ministry of Bishop of Rome…
"The Catholics of Seychelles fully understand the reason motivating the decision of Your Holiness and sympathise with you but are nonetheless saddened by it," said the President.
The President added that His Holiness has been a "source of great inspiration to us all, the gentle voice which spoke with such humility yet radiated the strength of boundless moral and spiritual leadership, love and compassion".
In thanking His Holiness for the spiritual guidance he has provided over the years to the world, the President extended a personal thanks for the privilege of having been received by the Pope on two occasions.
"They left a lasting impression on me and I shall treasure those memories for the rest of my life," said the President.
President Michel met with His Holiness in September 2006 and in October 2010.