New book covers Seychelles' festival of the sea
15-February-2013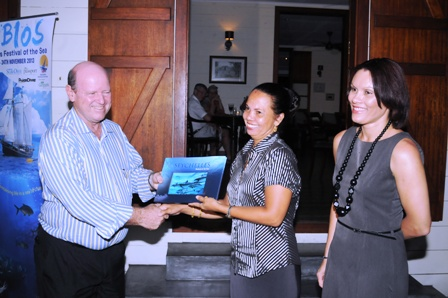 It was launched at La Plaine St André on Wednesday by STB chief executive Elsia Grandcourt in the presence of the Minister for Tourism and Culture Alain St Ange and several other guests.
Speaking at the event, Mrs Grandcourt thanked all those who have played an important role in the creation of the book.
She added that the book is an important publication which establishes the role Subios has been playing.
Mr St Ange presented copies of the book to those who have played a role in its launch.
He congratulated the STB for looking back at re-positioning Subios as an important event in the country adding that it is good to get the best of our underwater life.
During the ceremony, Imran Ahmad, a professional Nikon photographer, gave a PowerPoint presentation on his underwater photos which he has taken here in Seychelles.
Famous soca queen from Trinidad and Tobago Lima Calbio presented a copy of a book from her country to Mr St Ange before performing one of her hits.
The book costs R450 and is on sale at the STB offices. It is about Subios events organised in the past since 1989.
It also traces the history of this festival of the sea and it celebrates people who have contributed in the success of Subios.