South African State-of-the-Nation address -Seychelles' presence marks special bond of friendship
16-February-2013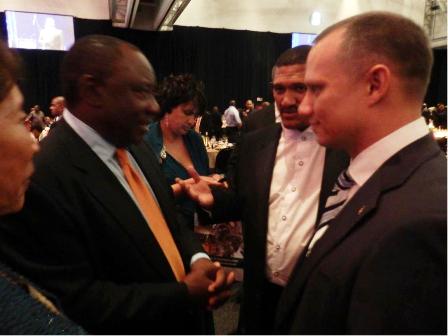 "Seychelles and South Africa share a special bond of friendship and it was a great honour to be able to represent Seychelles at this important date in South Africa's constitutional calendar," said Minister Adam.
During his working visit, Minister Adam will be attending high level meetings with a number of South African government officials to follow up on the programme of cooperation discussed during the recent visit to Seychelles in December 2012 of Minister Adam's South African counterpart Maite Nkoana Mashabane, the Minister for International Relations and Cooperation.
In his State-of-the-Nation address, President Zuma addressed a number of issues including the ongoing infrastructure development in South Africa, enhancing productivity and job creation, as well as the huge potential of the tourism sector to be a motor for wealth creation in South Africa and the wider region.
"President Zuma's address has reaffirmed that Seychelles and South Africa share similar objectives in terms of our national development strategies, and our two countries are committed to continually strengthen our bilateral relationship as well as our cooperation in multilateral institutions," Minister Adam added.
In terms of foreign policy, President Zuma highlighted that South Africa would continue to be engaged with all partners in order to ensure stability on the African continent.