Ministry pleased with renovation work on surgical wards
20-February-2013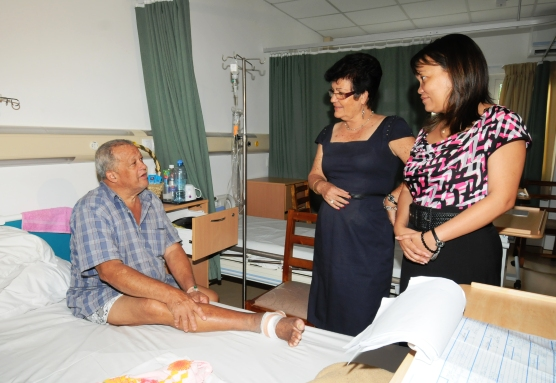 Minister for Health Mitcy Larue said this on Monday after visiting the Hermitte and D'Offay wards accompanied by her principal secretary Veronique Laporte and other management staff.
Speaking to the media after the visit, Mrs Larue said the wards were not up to the standard and not conducive for members of staff, thus renovation work was needed.
She said the wards, which are now air-conditioned, have a more relaxing environment and with a difference.
New equipment and facilities have been installed on both wards. These include new beds, suction and oxygen facilities, a special bathroom for people with special needs or disabilities, new gas systems, a more spacious staff room and a doctor's meeting room.
There is also a doctor's on call room on the D'Offay ward and a new buzzer system in each ward to be used by patients when in need of help.
The entire interiors of the two wards have become more modern, and room facilities for patients needing special care have been increased and upgraded.
Both Hermitte and D'offay wards have a high dependency unit, equipped with five beds. This has been set up for patients needing special attention such as those who have just come out of the intensive care unit.
The private rooms have been completed but the ministry is calling on sponsors to come forward to help in donating things such as television sets and other needs in those rooms.
Mrs Larue is also calling on all patients, staff and visitors to these wards to keep the high level of hygiene and standard on those wards.
She added that a maintenance system will be put in place to ensure that the wards are kept to a high standard.
"I will also like to call on visitors to respect the rules and regulations put in place here at the hospital," she said.
"Children under the age of 12 are not allowed to visit patients admitted to the hospital and this should be respected."
Mrs Larue said it is also not allowed for visitors to sit on patients' beds and those coming in and out of the wards should use sanitisers which have been placed inside for hygiene purposes to clean their hands.
Visitors and patients can also write down their complaints and drop them in a 'complaint box' which are then analysed by the hospital management.
Mrs Larue said renovation work at the Seychelles Hospital will be on-going to help bring added comfort to the patients, to make the working environment more conducive for staff and to keep it to a high standard.
Members of the public are being urged to cooperate as these work being done will be to the benefit of all those using these services.
Mrs Larue has also thanked all members of staff for their understanding during the times renovation work was being done and for the hard work done to move the patients on the newly renovated wards.