Good-is-on our side says ISS football team
21-February-2013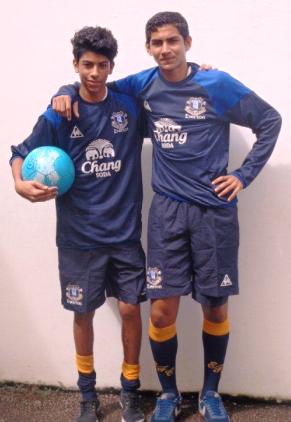 The current manager and demigod Davie Moyes has had a remarkable decade leading the club to the top five of the English Premiership and probably barely remembers his juvenile games in Glasgow, Scotland, back in the 80s alongside Russ Thomson – coach of the International School Seychelles (ISS) football teams. Thomson was a centre half of similar style with Moyes but with less professional success!
The arrival of Robin McMillan – art teacher and head of key stage three at the ISS this year – brought not only a dynamic new member of staff but also a most welcome connection to Everton FC as Robin is a life-long fan and has managed to secure the donation of Premier League quality strips and balls for the junior and senior squads of the school. The total value of the donation is estimated at R20,000.
The school looks forward to the start of the under-15 league programme run by the Seychelles Football Federation to sport the Everton colours where they have high hopes of success now that Good-is-on our side!