New anti-piracy coordination centre opens
26-February-2013
This comes just a year after President James Michel, during a working visit to UK, signed a memorandum of understanding (MoU) with British Prime Minister David Cameron for the setting up of this facility, called the Regional Anti-Piracy Prosecution and Intelligence Coordination Centre (RAPPICC).
The official launch of the centre was marked by the unveiling of the commemorative plaque by President Michel and the British Minister for Maritime Security, Foreign and Commonwealth Office, Hon. Alistair Burt MP.
This was followed by the signing of an operational MoU and partnership agreement between UK and Seychelles by the Minister Burt and the Seychelles' Minister for Home Affairs and Transport, Joel Morgan.
The guests were then taken on a tour of the RAPPICC facilities, which include outstanding conference and training facilities within the building, supported by an exiting range of high-definitiion information technology, which will be of significance to partners visiting Seychelles.
After the tour, President Michel was interviewed by Skynews, one of Britain's main television channels. The interview focused on Seychelles's leadership role in combating piracy.
Mr Morgan, who also chairs the Seychelles high-level committee on piracy, said the signing of the MoU a year ago sent a clear signal of political intent to confront the organised crime of Somali piracy, of Seychelles' determination to combat the scourge and the UK's mutual trust and confidence in engaging each other to achieve this.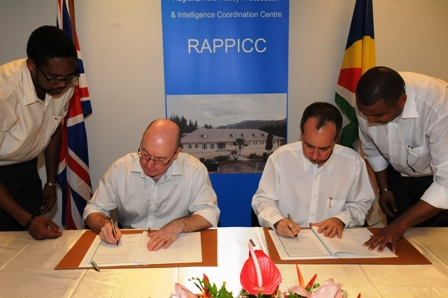 He said the impact of piracy on Seychelles has been substantial: from our national security perspective to our maritime tourism, to our fisheries industry, to our maritime trade and port activities.
"As a small island state, Seychelles could not have shied away from the responsibility of tackling such an enormous threat. But, we were determined not to sit back and do nothing as pirates mounted vicious attacks on vessels in our waters, impacting our economy negatively," Mr Morgan said.
"But most importantly, we could not sit back and let them take our citizens as hostages."
Mr Morgan said the UN has identified Transnational Crime as one of the key challenges facing humanity in the new millennium, adding in the 21st century, this will be a defining issue, not just regionally, but globally.
He noted that transnational crime groups proliferate because of the effects of globalisation, taking advantage of increasing opportunities for travel, rapid money movements, telecommunications and computer-based networking.
Mr Morgan said as a result, we are increasingly challenged by criminal structures that not only span our region, but reach out into other continents, resulting in an increasing risk to the stability of our countries, safety of our people and the rule of law.
"If criminals seek to exploit the openness and opportunities of globalisation for their purposes, then we must exploit those very same factors to defend ourselves and defeat them, to prevent the human misery, fear and corruption they will otherwise inevitably bring," Mr Morgan said.
Mr Morgan said the organisers of piracy have taken advantage of weak institutions and the absence of the rule of law in Somalia to inflict fear and misery on the innocent seafarers of many states, for profit and to launder their criminal proceeds inside and outside of the region.
He noted that the establishment of RAPPICC today by Seychelles and the UK, in conjunction with our partners from the international community, is a clear and unambiguous signal of our collective political will to proactively answer the challenge of transnational crime with an effective transnational response.
Mr Morgan said Seychelles has responded cohesively and with determination to Somali piracy, embracing collaboration with the broader international community and the region.
He noted that Seychelles has introduced strong legislation to counter piracy and criminal money flows, participated actively in the Contact Group on Piracy off the Somalia Coast (CGPCS), signed several Status of Forces Agreements (SOFAs) and Transfer of Prisoner Agreements, while acting as a regional hub for counter-piracy operations in the Indian Ocean.
Mr Morgan said while international maritime forces and the industry have been effective in their responses to piracy, law enforcement has been slow to recognise the benefits of transnational collaboration on the targeting of piracy kingpins for prosecution.
"The potential deterrent and disruptive impact on piracy of even a modest number of piracy-organiser prosecutions, is hugely under-estimated," he said.
Mr Morgan noted that without practical demonstrations of the ability to target the organisers of piracy, the key organisers and financiers seem simply immune from justice.
He said that while there are significant obstacles to achieving cross-border collaboration, such as the diversity of national legal systems, law enforcement structures and approaches to mutual legal assistance, there is also good news.
"A strong basis for better collaboration already exists in international law, transnational law enforcement structures and shared resources, and the RAPPICC is ideally positioned to take advantage of them.
"Laws and international conventions , such as the UN Convention against Corruption (UNCAC) and on Transnational Crime (UNTOC) provide the overarching legal framework we need for information sharing and cooperation," Mr Morgan said.
Mr Morgan said the strategic impact of RAPPICC will be to create a multi-disciplinary, multinational centre in the region for transnational law enforcement cooperation, which is soundly based on the legal framework provided by UNTOC and supported by other international laws and conventions.
RAPPICC will leverage these existing structures and services to catalyse intelligence development and sharing on piracy crime networks.
Mr Morgan said Seychelles has a strong record of collaboration on prosecuting organisers.
In conjunction with Interpol, the USA, Norway and France, the Evidence Exploitation Initiative has been set up to ensure that all evidence derived through the transfer of pirate suspects for prosecution is shared with our partners.
"This has led to Seychelles being in the top three contributors to the Interpol Global Database."
Among other examples, he said Seychelles has issued four international arrest warrants for piracy organizers which have been globalised through its i-24-7 network.
He also said the Attorney General's Office, the Ministry of Foreign Affairs and his ministry have worked hard with other states to transfer evidence for use in prosecutions. Seychelles has extradited a notorious pirate captain to Belgium, where he was convicted with the help of evidence from Seychelles.
Minister Burt said he was honoured and delighted to be present at the inauguration of the anti-piracy coordination centre, to which Prime Minister Cameron and Foreign Secretary William Hague attaches so much important.
He said it marks a further milestone in UK-Seychelles relations and constitutes an example of the trust and cooperation between the two countries.
The opening of RAPPICC, said the British minister, sends a strong signal that Seychelles is able to deal with pressures from within, and much beyond its borders.