Chinese donation to boost students' musical skills
01-March-2013
It is hoped that the different instruments – including guitars, violins, trumpets, among others – will help boost cultural education and develop musical talents of Seychellois students.
A sample of these instruments was handed over to Vice-President Danny Faure at State house yesterday morning by the senior advisor of the People's Government of Henan, Liu Chunliang, who is heading a delegation on a visit here.
Following the hand-over, Mr Liu and the special advisor for culture Raymonde Onezime signed and exchanged documents confirming the hand-over of the instruments.

This was in the presence of Vice-President Faure, Chinese ambassador to Seychelles Shi Zhongjun, other members of Mr Liu's delegation and senior officials from the Ministry of Tourism and Culture.

Mr Liu and his delegation then held talks with Vice-President Faure and officials from the Ministry of Tourism and Culture.
Ms Onezime, speaking on behalf of the office of the Vice-President, the Ministry of Tourism and Culture and more specifically the National Conservatoire of Performing Arts and the school of music, conveyed her sincere thanks and appreciation for this kind donation.
"This once again denotes the good relationship that exists between our two countries," said Ms Onezime.
She assured Mr Liu and his delegation that the instruments have come at an opportune time and that they will be well utilised by the students.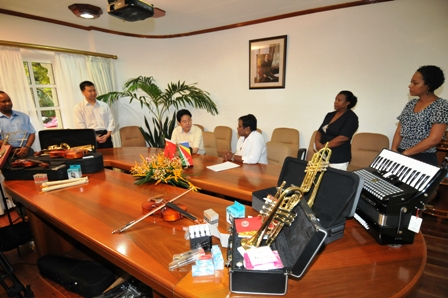 "This donation had been discussed and agreed upon during the commemoration last year of 150 years of Chinese presence in Seychelles," added Ms Onezime.
For his part, Mr Liu also expressed his joy and honour of being here and presenting the instruments as a gift to Seychelles' tourism and culture ministry.
"It is true that a long distance separates our two countries but this has not stopped our friendship from growing and strengthening," added Mr Liu through an interpreter.

"I am convinced that the people of the two countries will always be good friends and China will continue to help Seychelles as much as it can," he added.
Mr Liu also expressed the hope that the different instruments will help boost cultural education and develop musical talents of Seychellois students.

Following its meeting and talks with Mr Faure, the delegation proceeded to the National Cultural Centre at the National Library to watch a group of students from the Conservatoire of Performing Arts display their talents and know-how in different musical instruments.
The director of the conservatoire Pierre Joseph welcomed the donation of instruments.
He noted that because the different instruments come in a consignment this makes it possible to run classes of different age groups ranging from very young children to adults.

He said the consignment of instruments has come at an opportune moment with a large number of applicants still on the waiting list.
Mr Joseph further added that because most applications are for the same instruments – the guitar and the piano -- placements to learn playing these instruments are fully booked. He also said that at present the conservatoire is also facing a shortage of local instructors to give lessons in the different instruments including piano.
"This new consignment of instruments is offering a possibility to applicants on the waiting list to opt for the chance to learn another instrument," Mr Joseph explained.

He stressed that there are lots of vacant places to learn other instruments like trumpet, saxophone, clarinet, violin, accordion to name but some.
He took the opportunity to call on parents to enroll their young children aged seven up to 15 years who are interested in learning to play any of these instruments or others.

Speaking after meeting the students and listening to their different performances, Mr Liu said he and his delegation had been very much impressed by their talents.

"We really enjoyed their performances and I believe those children have a lot of potentials waiting to be developed," said Mr Liu.
With regard to the talks the delegation held with Vice-President Faure earlier in the morning, Mr Liu described it as "very fruitful and as an opportunity to explore ways to further strengthen and promote an already strong bond of friendship".

The Henan delegation who arrived in the country on Wednesday will visit Praslin before leaving the country later today.