Partners join forces to boost visitor arrivals
02-March-2013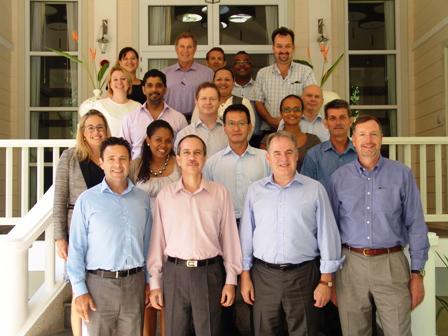 Senior representatives from Air Seychelles, Etihad Airways, the Seychelles Tourism Board (STB) and the Seychelles Civil Aviation Authority (SCAA), met recently at the Banyan Tree Resort & Spa to discuss the challenges and opportunities facing Seychelles.
Attending the forum were Air Seychelles' board members headed by Seychelles' Minister for Home Affairs & Transport, Joel Morgan; Etihad Airways' president and chief executive officer, James Hogan; principal secretary for Tourism, Sherin Naiken; Air Seychelles' chief executive officer, Cramer Ball and representatives from the SCAA, led by Captain David Savy.
"Partnership is at the heart of the Etihad Airways business strategy. In all areas of our business we work with like-minded companies and individuals, who share our vision, to drive and support growth and development," said Mr Hogan.
"We are already seeing the benefits of increased collaboration in the growing numbers of tourists to the Seychelles fed through the joint Etihad-Air Seychelles network, which is the result of our equity partnership," he added.
The Etihad Airways team included chief financial officer, James Rigney; senior vice-president for corporate strategy, Carolyn Prowse and board members Kevin Knight, Duncan Naysmith and Bassam A. Al Mosa.
Mr Ball of Air Seychelles said: "The tourism board and civil aviation authority have done an impressive job creating demand for travel to the Seychelles through focused marketing initiatives and a liberal air transport policy. By collaborating we will achieve a much better result for Seychelles tourism."
The Air Seychelles team included chief financial officer, Shelley Cole; general manager for operations, Pete Mitchell; general manager for corporate affairs Alan Renaud and general manager for human resources Peter Carrie-Wilson.
Participants at the meeting analysed opportunities for future growth and examined the many attributes of the destination and their strong appeal to an ever widening demographic of visitor. The forum also discussed the challenges facing Seychelles' tourism industry and how these could be tackled in a measured and collectively-supported strategy.
"In the forum we witnessed the emergence of new working relationships between tourism, civil aviation and the airlines," Ms Naiken said.
"I am confident this new relationship will achieve great results for our Islands' tourism industry. We are all winning together for Seychelles," she added.
The chief executive officer of SCAA, Gilbert Faure, presented important development plans for airport infrastructure this year valued at R115 million and Mr Ball talked about the introduction of the second airbus A330-200 and Air Seychelles' achievements and successes over the past year.
Minister Morgan said: "There is a natural synergy between tourism, civil aviation and the national airline which is the foundation of every successful tourism destination.
"This forum has served as an opportunity for Air Seychelles and Etihad Airways to work with their colleagues to promote insight into each other's operations and plans for the future and so be better positioned to boost Seychelles tourism and air transport development.
"A strong collaborative partnership, that we are all committed to building, is being developed," he said.