Hockey federation receives equipment worth US $11,664
02-March-2013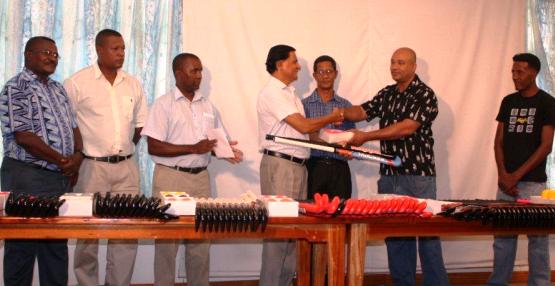 Seychelles Olympic and Commonwealth Games Association (Socga) president Antonio Gopal handed over the equipment to Seychelles Hockey Federation chairman Sharo Valentin yesterday afternoon during a short ceremony at the Socga headquarters, Stad Linite, Roche Caïman.
Socga secretary general Alain Alcindor, Socga member Donald Celestine as well as Seychelles Hockey Federation executive committee members were present.
Mr Valentina and his team have received 800 hockey sticks and 50 hockey balls which will be distributed in all primary schools over the country so that children will become acquainted to the sport of hockey at a very young age.
The Socga acquired the equipment under the development of national sports structure programme.
G. G.