Family support groups discuss way forward
07-March-2013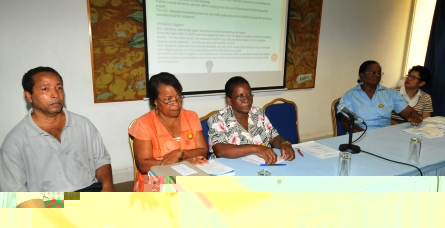 Saturday's AGM
Held at the International Conference Centre, the meeting started with reflections and prayers before members were presented with the minutes of the 2010 meeting.
The chief executive and treasurer's reports were also presented after which those present had the chance to ask questions, share and discuss those related issues, as well as the way forward.
Present were representatives of Anse Royale, Baie Lazare, Mont Fleuri, Pointe Larue, Victoria and Anse Etoile family support groups, members from the Praslin group and representatives of the Ros Vivan group which works closely with the association.
The meeting is held every two years to discuss activities held and work being done by the association.
During the meeting, a new executive secretary, Robert Souris, was elected and he will serve on the association's executive committee.
Rosie Denis, APSHF's chief executive, said the association has had a number of achievements which include the new programme for unmarried couples and the 21st century marriage workshops.