Tanzania's health officials happy with familiarisation visit
08-March-2013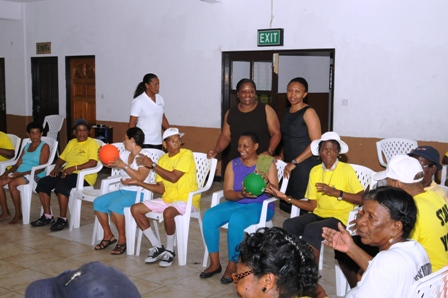 Led by Dr Margaret Mhando, director of curative services in the Ministry of Health and Social Welfare in Tanzania, the delegation also comprised Dr Sarah Maongezi, head of physical non-communicable diseases department, and Helen Semu, coordinator of the nutrition services of Tanzania's food and nutrition centre.
"We learned before coming that Seychelles is doing an excellent job in combating non-communicable diseases. This is why we have decided to come here to see for ourselves and learn about the physical activities and other programmes in place for the whole population," Dr Maongezi told Sports Nation as Dr Mhando enjoyed herself in an activity with local senior citizens inside the Plaisance community centre.
The activity was organised by the Sports For All Unit within the National Sports Council.
While here, the delegation also attended sessions with Seychellois women who are in employment, visited training centres and fitness gyms, held talks with officials from the National Sports Council, Ministry of Health and Ministry of Education, and followed baby gym sessions.
"We have learnt about physical activities for the whole population and we believe the system in place in Seychelles is very good. From what we've seen, we will take what we think we can implement in Tanzania," added Dr Maongezi.
Having ended her activity, Dr Mhando joined her colleagues for the short interview, saying her ministry will launch its new programme to fight non-communicable diseases nationwide during a special event.
The programme will include ideas taken from the Seychelles experience, and Dr Mhando added that she was impressed to see people of all ages doing physical training in the gym at the same time.
Seychelles' programme against non-communicable diseases was initiated in the late 1980s and has since been taken as a model for non-communicable diseases prevention and control programmes by other developing countries.
The fight against non-communicable diseases in Seychelles include the development of early population-based risk factor surveillance mechanisms and a variety of programmes and policies, which eventually lead to the need for a comprehensive and multi-sectoral policy response to non-communicable diseases.
A study conducted by P. Bovet, B. Viswanathan, C. Shamlaye, S. Romain, J. Gedeon and entitled 'Addressing non-communicable diseases in the Seychelles: towards a comprehensive plan of action' shows the many ways the Seychelles government has been fighting non-communicable diseases.
Among those are a variety of programmes targeting high-risk individuals, including hypertension and diabetes screening in public places and workplaces; the strengthening of health care given to non-communicable diseases patients at primary health care level; managing hypertension and diabetes in all district health centres in the country; and training of specialised non-communicable diseases nurses who now play a prominent role in providing health care to non-communicable diseases patients in health centres.
At clinical level, local guidelines for the diagnosis and treatment of hypertension, diabetes, and blood lipid disorders have been developed to guide standard care to non-communicable diseases patients. A Tobacco Control Act has been enacted and included, among various provisions, total bans on tobacco advertising and on smoking in enclosed public places and workplaces. A national school nutrition policy has been adopted and includes a ban on sugar-sweetened soft drinks in schools and it restricts the sale of other foods of low nutritional value.
G. G.