International Women's Day-New award to recognise women's achievements
09-March-2013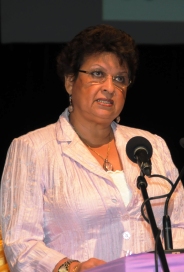 Minister Mondon addressing the gathering at the launch of the conference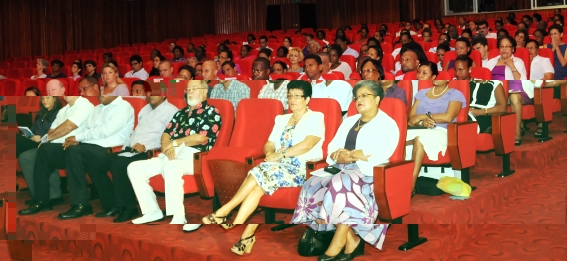 The initiative was launched during a half-day conference to mark the International Women's Day yesterday at the International Conference Centre.
Attending the ceremony were former President James Mancham, Vice-President Danny Faure, Speaker of the National Assembly Dr Patrick Herminie, ministers and leader of government business in the National Assembly Marie-Antoinette Rose.
British high commissioner Lindsay Skoll, other members of the National Assembly, ambassador for women and children affairs Dr Erna Athanasius and several high government officials were also present.
The women community service award is open to candidates aged 21 years old and above and to all women residing in Seychelles.
The award was launched by principal secretary in the Vice-President's office Jeanne Simeon after giving a presentation on the achievements and way forward of the Seychelles Women's Day Association.
During the ceremony, Mrs Simeon also launched the Seychelles Women Hall of Fame coffee table book and copies were presented to Mr Mancham, Vice-President Faure, ministers and Dr Athanasius and Mrs Skoll.
Several presentations were given during the ceremony which included the integration of gender in the social renaissance plan of action, a video entitled Sipor pour pilye nou kominote, Women in leadership and decision making, and on Femmes en politique de l'Océan Indien.
An exhibition was especially mounted for the occasion in the SeaFront restaurant whereby various organisations working for the betterment and empowerment of women in the society displayed their work.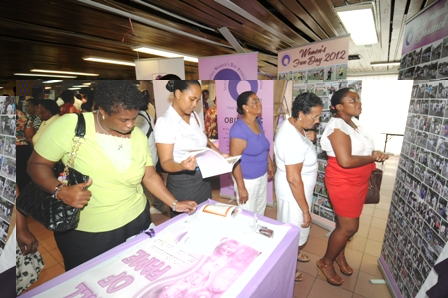 The half-day conference addressed six main areas of the social renaissance action plan and discussions followed by those who were taking part.
Topics addressed included empowering women to achieve economic independence, performance of boys and girls in education, engagement of civil society and implications of unhealthy lifestyles on Seychellois women.
It aimed at mainstreaming the gender agenda in the Social Renaissance Programme and is set to serve as a unique chance to further promote the advancement of women in Seychelles.
In her opening remarks at the ceremony, the Minister for Education Macsuzy Mondon said women are the driving forces in their homes, workplaces and communities.

Mrs Mondon saluted each woman adding that she believes that each one is special, bursting with positive energy and having the resilience that has been imbibed in us by our mothers before us. "Each one of us has contributed, and continues to touch many lives as we go through our normal business of living," she said.
"As we celebrate our day we also give thanks for all the men in our lives, our spouse, sons and male colleagues. Thank you for the complementary role that you play in helping to make the world a better place."
She called on all women in the society to face their past without regret, to handle their present with confidence, prepare for the future without fear and to celebrate the woman that they are.