Air Seychelles welcomes 'Vallée de Mai' to fleet
09-March-2013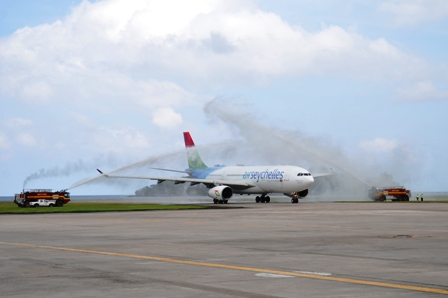 The name 'Vallée de Mai' is in honour of Seychelles' second Unesco (United Nations Educational, Scientific and Cultural Organisation) natural world heritage site – the Vallée de Mai situated on Praslin.
With the national flag waving from the cockpit windows, the aircraft was greeted on arrival by a traditional water cannon salute.
Present to witness the arrival were President James Michel, former President James Mancham, Vice-President Danny Faure, Minister for Home Affairs and Transport Joel Morgan, Cabinet Ministers, government officials, diplomats, members of the National Assembly and Air Seychelles chief executive Cramer Ball.
Roman Catholic Bishop Denis Wiehe and Anglican Bishop James Wong blessed the new aircraft after a reception in the airline's premium lounge.
The arrival of the Airbus A330-200 is a significant milestone for the airline, which only a year ago retired its aging Boeing aircraft and retrained all pilots and cabin crew to operate the Airbus A330. Equity partner Etihad Airways provided the training at its world-class facilities in Abu Dhabi.
As he congratulated the crew and expressed his pride in the momentous occasion, President Michel said: "It brings me great happiness and pride to welcome Air Seychelles' second Airbus A330 aircraft. This is a clear demonstration that we are on the right track. The new Air Seychelles, which has emerged from a strong and rewarding partnership with Etihad Airways, epitomises the forward-looking policy for our country's economic infrastructure and facilities."
Minister Morgan, who is also the Air Seychelles chairman, praised the airline for another historic achievement and stated that the strategic partnership with Etihad Airways had yielded strong results with a remarkable turnaround in the company's profitability.
Chief executive Ball said he feels particularly proud for our Seychellois crew members who have worked so hard and come so far to create a new and revitalised Air Seychelles with the support of partner, Etihad Airways.
Through our selection of photos we recount the arrival of the 'Vallée de Mai'.