Namibian team hails Seychelles' e-governance developments
15-March-2013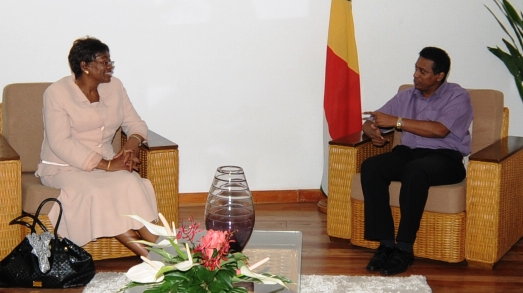 The delegation, headed by Nangula N. Hamutenya, the under secretary in the department of public service information technology management, was accompanied by Seychelles' principal secretary for the department of information communications technology Benjamin Choppy.
Mrs Hamutenya said Vice-President Faure expressed his willingness to see Namibia move forward like Seychelles.
The Namibian delegation will be able to come back here for technical support and to strengthen cooperation which exists between the two countries.
She added that the relationship between Seychelles and Namibia is very strong.
Mrs Hamutenya said her team has learnt a lot from the visit and will be able to use what they have gained in their own e-governance strategic plan.
She added that as Seychelles has been ranked number one in the region and Africa, Namibia wanted to have the best approach of e-governance that would be recognised in the final analysis for it to improve its own rating.
The United Nations e-Government Survey 2012 has ranked Seychelles first for e-government development in the Africa region.
Mr Choppy said the visit was a chance to share ideas and experiences on e-governance to benefit both countries.