Joenise Juliette's Kouler Kreol snap to grace Walk of Fame
16-March-2013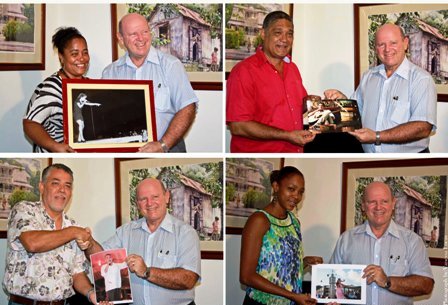 Tourism and Culture Minister Alain St Ange said this earlier this week and noted that he saw the photo in an ongoing exhibition organised by the female artist to celebrate her silver jubilee as a singer.
"As I looked through the impressive collection of photos and press clippings from the 25 years of Joenise Juliette, one amazing photo that caught my attention is a 1995 snap of Joenise taken during the Kouler Kreol show at Stad Popiler in Victoria. This photo will become the first in a collection of Seychellois artists and musicians on the Walk of Fame at the Ministry of Tourism and Culture," said Minister St Ange.
Three other singers – Joe Samy, Dereck Savy and Michelle Marengo – have since officially presented their photos to Minister St Ange to be included in the Musicians' Walk of Fame.
Many other pictures have been forwarded to the department of culture and these include Seychelles' famous celebrities such as Night Birds, Cliff & the Night Shades, Spider band, The Cheveron, Mickey & The Buccaneers, Raymond du Buisson, France Lagrenade and many others.