Moroccan ambassador calls on VP Faure
22-March-2013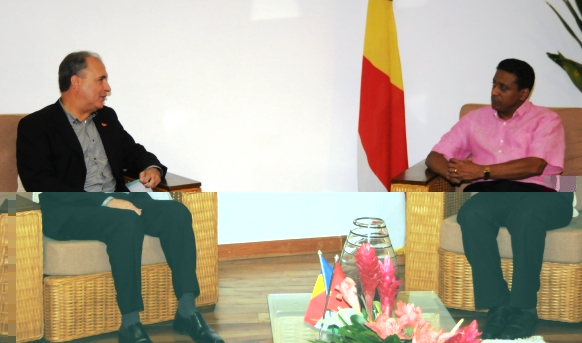 Apart from paying a courtesy call on Mr Faure, Mr Mohammed Amar, who is on a week-long working visit here, is also meeting various ministers, namely Designated Minister Vincent Meriton, Health Minister Mitcy Larue, Tourism and Culture Minister Alain St Ange and Foreign Affairs Minister Jean-Paul Adam and the speaker of the National Assembly, Dr Patrick Herminie.
Speaking after meeting Mr Faure, Mr Amar said they talked about ways and means to enhance cooperation between Seychelles and Morocco, especially in fields like health, sports, capacity building where the possibility for young Seychellois to follow courses in Morocco were explored.
With regard to tourism, Mr Amar said:
"Morocco receives around 10 million tourists every year and we are ready to share with Seychelles our experience in that field."
How to intensify medical cooperation between the two countries was discussed at length.
"For several years now doctors and other specialists from Morocco have been working in Seychelles and we are trying to get more specialists to come and work here," he added.
In the fight against piracy, Mr Amar said his country is ready to help Seychelles fight this scourge.
"We are ready to train Seychellois and equip them to fight the problem," Mr Amar said.
He added that he also discussed the possibility for his country to provide short-term training courses and exchange programmes as well as different scholarships for between two and eight years for young Seychellois in fields that would be identified in due course.