Work places show public what they do
22-March-2013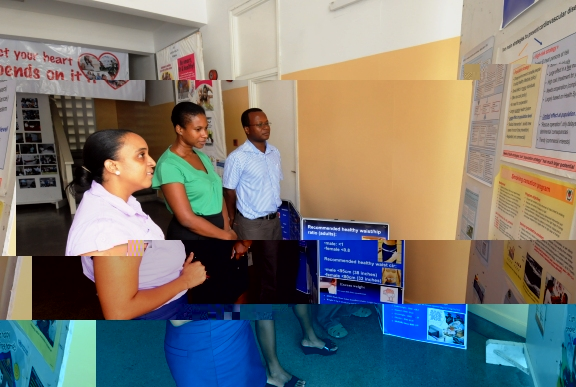 Among the organisations which hosted exhibitions and welcomed guests were the Indian Ocean Tuna company (see separate story), the Ministry of Health and the Seychelles Trading Company (STC).
"This year we wanted firms to host exhibitions within their premises rather than have a major centralised exhibition," said Maryvonne Francis of MLHRD.
Health workers showed some of the gains they have made together with their partners over the years, for example the higher number of people who are taking the need for better lifestyles more seriously and acting to improve their health.
While many individuals are making efforts to combat rising obesity for example by exercising at the Roche Caiman trail, many organisations now have gyms within their premises, said health programme manager Bharathi Viswanathan.
She said schools are increasingly educating children on the need for healthier diets and avoiding unhealthy foods and drinks with fewer snack shops offering lemonades.
The level of knowledge on what is needed to stay fit is higher among members of the public, she said.
At the STC, staff showed visitors the various units of the company and the products it either makes or imports and sells, for example bread, tea, meat and serviettes.
The Islands Development Company was also due to stage one yesterday.
The National Human Resource Development Council is hosting its exhibition at the Citimart complex today, the Seychelles Public Transport Company will run one at its head office, as Allied builders stage one at Le Rocher and the Public Utilities Corporation at the Orion Mall.
The Ministry of Education will run an in-house activity where representatives of various sections will meet and try to come up with an action plan to promote productivity.