Children star at world water day exhibition
23-March-2013
They joined experts from the Ministry of Health, the Public Utilities Corporation (PUC) and other national bodies concerned with water treatment and testing, at an Orion Mall exhibition which was launched by the Minister for Environment and Energy Professor Rolph Payet.
Among the children were Alissa Dogley who offered a poem and Sounam Sultrim who explained the benefits and ways of rain water harvesting.
Professor Payet hailed their efforts, stressing the savings that a family that uses a shower makes as opposed to other methods like bathing.
He noted that this year the day was yesterday marked under the theme; International year of cooperation.
"As island state, our Seychelles is blessed to have fresh water sources, which the Public Utilities Corporation abstracts to provide safe drinking water to the population and to the different businesses and industries. One can only imagine how life would be for important sectors such as health, farming and tourism without adequate water," he said in a statement.
"It is true with rapid development water is becoming scarce; it is also a fact that with climate change our rain patterns have changed, with shorter rainy seasons and longer period of droughts. Surface sources are depleting and groundwater resources limited. In order to provide more potable water, the Government of Seychelles has to invest heavily in capital intensive projects."
He said raising the La Gogue dam and installing desalination plants are some of the projects the government is doing.
Schoolchildren visiting the various stalls at the exhibition yesterday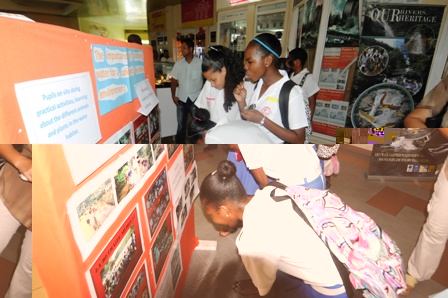 "The marginal cost of providing additional water from such projects is high. So it is of utmost importance, that the cooperation of all consumers in all the sectors is forthcoming to maintain the demand at more manageable levels. For a number of years the PUC has been advocating the saving of water by changing of individual habits and corporate culture. Further the use of water saving devices and also reuse of wastewater for non-critical uses such as agriculture, landscaping, gardening is also being promoted. This strategy remains unchanged and should be further explored to keep water demands at more manageable levels and ensure that potable water still flows from the taps of each and every Seychellois household.
"Other ways of sustaining water supply have been explored; the rain water harvesting is taking its place as a must now, schools, private homes and tourism establishments have proven that harvesting rain water is a crucial way of saving on your water bills. Water harvested can be used for all purposes, it is even safe to drink after it has been boiled," he said, calling on all and everybody to cooperate to maintain the existence of water sources.
"Our irresponsible acts: when we use rivers as dumping sites, when rivers are diverted or reclaimed, will hasten the depletion of rivers and contribute to make fresh water sources scarcer," he said.