Ras Pyek represents Seychelles at Texas music festival
23-March-2013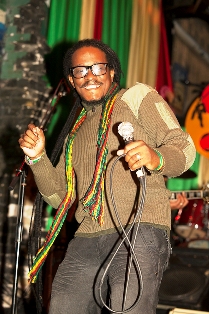 Tony, considered as a well-accomplished dub poet, performed at this respected musical event which took place from March 8-16.
This was made possible with the encouragement and coordination efforts of Austin-based reggae radio DJ and photo journalist Beverly 'Sista Irie' Shaw.
Sista Irie met Tony in April last year while visiting Seychelles as a guest speaker at a music business workshop organised by Unesco (United Nations Educational, Scientific and Cultural Organisation) consultant Lloyd Stanbury. This workshop was part of a mission to design an implementation strategy to develop the music industry in Seychelles.
Having Seychellois musicians take part in major international music conferences and festivals was one of the key recommendations made in the strategy.
With the support he received from the National Arts Council, Lardwaz, among other sponsors, Tony was able to make the trip to the United States.
The Seychellois artist arrived in Austin just in time for a series of rehearsals with backing band The Droppers.
The band comprises a coalition of independent Austin-based musicians and they held several rehearsals until Tony performed on March 14 at the Flamingo Cantina venue in Downtown Austin.
The Southwest Festival and Music Conference organised annually brings together over 2,000 bands to Austin and attracts in excess of 50,000 music enthusiasts and industry players.
The event includes workshops, lectures and professional networking which take place in the city's downtown Convention Centre along with a trade show and other music-related exhibitions.
The experience is a wealth of education for any person connected to the music industry.
Tony attended seminars and workshops, making many new connections for future professional development.
Other international artists connected with Tony to share experiences and to promote ongoing professional networking.
Tony also met international recording artists Don Carlos formerly of Black Uhuru, the legendary Skatalites, including original members Lester Sterling and Doreen Schaefer.
Speaking to Nation this week, Tony said the experience was awesome and that it was difficult for him to find the right words to describe how and what he felt. But he knows that it is an experience he will always cherish.
"I really had the most wonderful time of my life which I know I will always cherish," he said.
Tony and the Droppers played to an adoring crowd at Flamingo Cantina, enticing a growing number of dancing and cheering fans with potent lyrics and driving rhythms. Language held no barriers. Songs in Creole and English energised the room while Tony's interactive style and flying dreadlocks ignited a fever of call and response.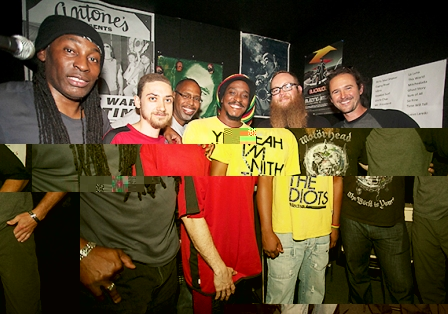 Tony's popular Poetik song captivated fans who jumped in synchronicity, experiencing authentic Creole vibes and demonstrating that intellectual senses can be a direct result of word, sound and not solely dependent on word translation. Ras Pyek tantalised the crowd by asking: What is my name? This was a brilliant technique to educate the fans about how to say his name in Creole.
The audience was a unique blend of cultures extremely receptive to Tony's entertaining and educational poetry.
Without doubt Tony has laid the foundation for further international exposure and promotion of Seychellois music, culture and lifestyle.
M-A. L.