Minister St Ange to take part in world tourism forum 'think tank'
23-March-2013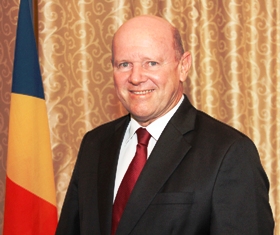 The dimension of the tourism meeting in Lucerne has grown even further since the ICTP (International Coalition of Tourism Partners) and World Tourism Forum Lucerne collaboration talks at the ITB Travel Trade Show recently in Berlin, Germany with special focus on green growth.
Minister St Ange is a founding member of the ICTP alongside Geoffrey Lipman and Juergen Steinmetz and the Lucerne tourism meeting will be the opportunity for Mr Taleb Rifai, the UNWTO (United Nations World Tourism Organisation) secretary general and tourism ministers to meet as ICTP members also meet side by side.
ICTP president Geoffrey Lipman met Martin Barth, the general manager of the Lucerne forum, to discuss ways in which they could extend their shared interest in the green growth transformation of the sector. They discussed the new World Tourism Forum 'Think Tank' that Mr Lipman will chair and met Minister Marthinus Van Schalkwyk, the tourism minister of South Africa, and Dr Michael Frenzel, the chairman TUI Travel PLC.
In Lucernem Dr Frenzel is set to deliver a keynote paper on hyper-connectivity and Minister Van Schalkwyk one on bridging the silos, to help explore new directions for the tourism industry.
Minister St Ange will be joining some 20 leaders from the travel and tourism sector when they meet on April 16-17, along with leading young social entrepreneurs to consider strategic changes in the world of tourism.